A Rugged Police Laptop Is the Cornerstone of Law Enforcement Technology
September 08, 2023
A reliable police laptop allows officers to access and share information quickly when on patrol, investigating incidents, apprehending suspects and interacting with the public. For officers in the field, not just any laptop will do, as law enforcement technology must be durable enough to withstand harsh conditions. A police laptop also needs powerful processors, ample storage, and reliable connectivity even in remote areas.
Consumer devices or "bring your own device" (BYOD) programs can introduce a whole different set of challenges for law enforcement. Not only do these devices pose potential security risks, but they're also difficult for agencies to manage and monitor and may require additional user training about threat and risk reduction.
Generally speaking, consumer-grade and BYOD devices:
Have limited appeal for the next generation of recruits
Don't handle drops and impacts well
Often lack customizability in features and add-ons
Typically have subpar speech recognition capabilities
Can't be mounted securely
May not be compliant with Criminal Justice Information System (CJIS) requirements
Police laptops require these essential features and more, as these rugged devices play a crucial role in fieldwork. That's why many law enforcement agencies use TOUGHBOOK® rugged laptops to support officers with more efficient and flexible workflows. By deploying TOUGHBOOK law enforcement solutions, officers can streamline tasks and spend more time interacting with their communities.
A Police Laptop Needs More Than Standard Mobile Device Management
Law enforcement agencies often turn to mobile device management solutions (MDM) solutions to manage and secure police laptops, smartphones and tablets. The use of MDM continues to grow in popularity among law enforcement agencies because it offers the capability to track device usage and health, enforce device security policies, and manage the applications present on devices.
As essential components in any law enforcement tech stack, rugged mobile computers enable officers to perform their duties effectively and securely from any location. Through MDM, law enforcement data remains secure and devices are always up to date to ensure CJIS compliance. Additionally, leveraging MDM capabilities as an end-to-end solution for deploying, monitoring and managing rugged field devices frees up a department's IT staff to focus on higher-value activities.
With enterprise mobility solutions like Panasonic Connect's Professional Services support and Smart Essentials services, law enforcement agencies gain features that augment the data and capabilities of an MDM solution, gaining real-time data about usage, location, errors and more. With this information at their fingertips, agencies ensure that devices always operate reliably out in the field where officers need them most.
Monitoring Police Laptop Health and Utilization from Anywhere
According to the Fifth Annual State of Enterprise Mobility Survey from B2M Solutions, 98% of IT leaders believe that reliable mobile devices and apps are critical or important to their organization. Therefore, it's essential for those who oversee law enforcement IT to monitor the health and utilization of enterprise mobile devices in the field. 
The report also found that:
98% of IT respondents depend on reliable enterprise mobile devices. 
86% of all mobile device issues go unreported by workers. 
84% of IT departments have real-time visibility into the health and usage of critical assets like Internet routers, switches, LANs and other equipment. 
97% of IT professionals want the same real-time visibility into mobile assets they have for stationary assets. 
94% of IT teams use MDM/EMM, but only 2% feel those tools add sufficient visibility to spot problems with mobile devices and apps as they occur. 
56% of respondents said that mobile issues create unnecessary costs for the company. 
MDM and enterprise mobility management (EMM) solutions can help law enforcement agencies manage and secure a police laptop and other mobile devices wherever they are.
A Police Laptop Must Provide Real-Time Communications and Compatibility
As technology continues to evolve, new solutions help officers complete their work even more safely, efficiently and effectively.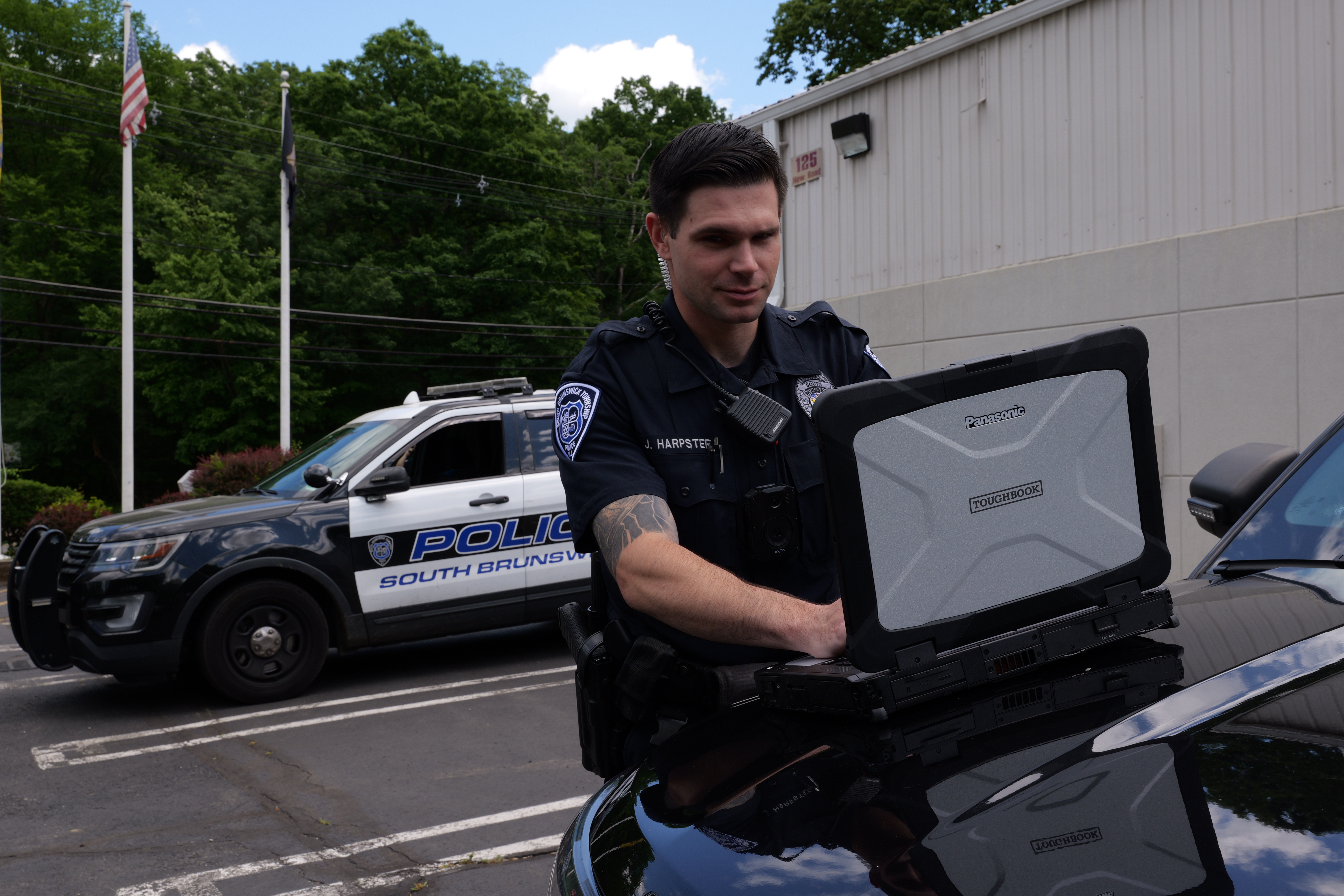 Through better police computers and other law enforcement technology solutions, officers gain real-time communication and other capabilities. This ultimately helps departments:
Transform officer data input with xPAK and barcode reader technology
Ensure only authorized access to CJIS data with endpoint security software
Boost officer productivity with intelligent technology
Mobile Police Computers Drive Efficiency and Productivity In The Field
Mobile law enforcement technology has the power to revolutionize police work. Using rugged mobile police computers, officers get the data they need to prepare themselves, respond to incidents and emergencies faster and provide the public with the accountability that it demands.
Faster Incident Reporting with Speech Recognition Technology
The time spent on incident reporting can significantly impact productivity and efficiency, so much so that 45% of respondents to a Nuance survey reported writing and filing incident reports as the most significant drain on productivity.
A single incident report can take up to two hours to process. This causes officers to spend significant time behind a desk at the station instead of face-to-face with the community. Advancements in voice-powered technology are solving this challenge by giving officers a path to easier, more streamlined incident reporting using a police laptop in the field.  
Effective Collaboration for Modern Law Enforcement
Collaboration between police departments and individual officers is essential for effective law enforcement. Working together, departments share resources and information, cover more ground, and operate more efficiently. Successful execution of collaborative programs requires up-to-date police technology, including cloud software, mobile devices for officers in the field, reliable broadband connectivity and voice-to-text.
Here are some of the ways law enforcement technology supports effective collaboration for officers:
Cloud applications facilitate data sharing across departments.
Rugged, smart mobile devices enable fast communications between officers.
Voice-to-text can greatly reduce the burden of administrative tasks.
Fast Access to Critical Data and Information
Connectivity is crucial in a police vehicle, at the scene of an accident or at a crime scene. Officers need a police laptop that grants them immediate access to criminal records, warrants, vehicle information and call history to effectively respond to a situation.
Using laptops to access databases on the go, officers can retrieve pertinent information in real time while en route or on scene. This also helps reduce time spent on labor-intensive, follow-up paperwork after an incident. To augment existing officer resources available, many law enforcement agencies are turning to new technologies like Unmanned Aerial Vehicle (UAV), fingerprint readers and voice-to-text technology. These technologies are giving police officers fast access to the critical data they need to do their jobs effectively.
New Recruits Expect Advanced Police Laptops
Attracting and retaining new law enforcement officers is challenging even in the best of times. Complicating the challenge of recruiting and retaining new officers is the need to address new generations of recruits, consisting of the Gen Zers entering the workforce and younger millennials seeking new careers.
The different values held by this new workforce have agencies rethinking recruitment and training strategies, with a focus on these six capabilities:
No-lag connectivity. Generations that grew up streaming video expect uninterrupted, high-speed connectivity on the job.
Remote work capabilities. High-speed connectivity on rugged laptops lets officers perform many work tasks from the field, freeing up more time to spend in the community.  
Integrated body and dash cameras. Body-mounted and in-vehicle cameras can go a long way toward increasing community trust while enhancing officer safety and situational awareness.
eCitations and digital reporting. Access to mobile devices and apps on a police laptop enables officers to capture information accurately, record interviews, take photos, issue eCitations and upload reports in the field.  
MIL-Spec equipment. TOUGHBOOK provides the portability and durability required to handle field work.
Familiar user experience. New tablets and 2-in-1 laptops that run Windows will provide a familiar user experience.
What Law Enforcement Technologies Are on Department Wish Lists?
A recent survey of law enforcement professionals uncovered their top priorities for work and technology in the immediate future. The survey found that leaders were most concerned about employee experience and internal operations.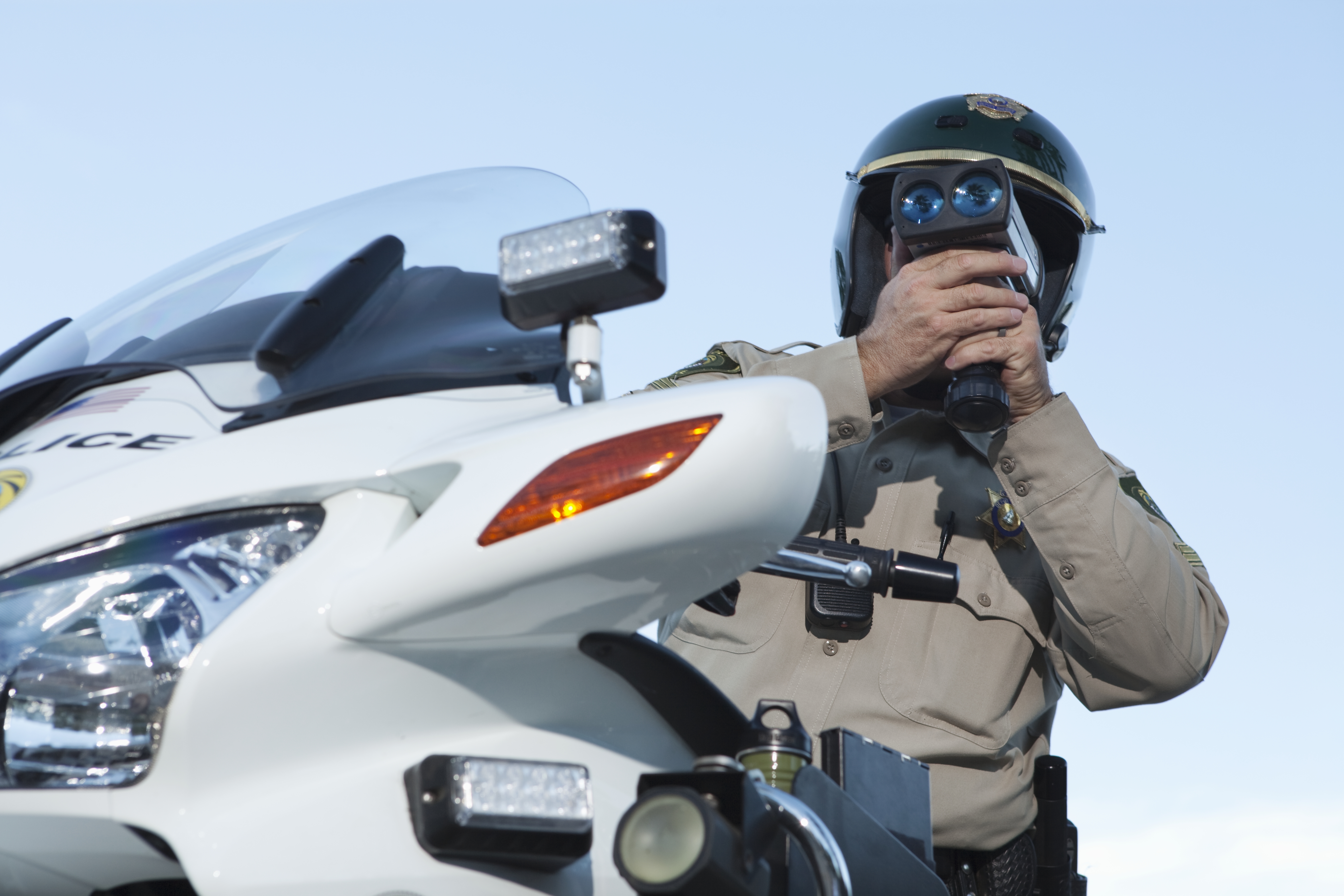 To address these concerns, agencies are focusing on how they can use technology to streamline internal operations and help staff achieve higher levels of productivity. Other key report findings include:
80% of survey respondents reported being concerned with staffing, recruiting and employee retention.
Respondents agreed that informed decision making and communication are the areas where technology will have the most impact.
73% believe automation and artificial intelligence technology will have the most positive impact on the industry. For officers, that means automating manual processes like reporting and data analysis.
What's Coming Next for Law Enforcement Solutions?
As law enforcement agencies evolve practices and procedures, one thing is clear: advanced technology and connectivity will shape their decisions around mobile technology and police laptop selection and adoption as they develop operational plans for the future.
Looking ahead, more agencies will leverage advanced technologies like virtual reality (VR) to further accelerate remote work capabilities and training. As software continues its migration to the cloud, officers will be able to gather, record and share real-time data from and between practically any device.
Making the Move to Windows 11
Microsoft has implemented a phased rollout for Windows 11 since releasing the operating system (OS) in October 2021. As public sector agencies consider upgrading their police laptop fleets to Windows 11 from Windows 10, many may remember the hassles and challenges associated with the migration from Windows 7 when Microsoft stopped supporting that OS in 2020.
Fortunately, upgrading to Windows 11 should be less daunting for public sector agencies and other organizations looking to modernize their fleet of police laptops. Windows 11 is built on Windows 10 base code, which means the apps that run on one will also typically run on the other. Additionally, Windows 10 security and functionality updates should continue to roll out as late as October 2025 (depending on the version you have).
Supporting the Evolution of "Next Generation" 911 Response
When 911 was first introduced, it was built to support landlines and analog devices. With 80% or more of 911 calls now coming from wireless devices, Next-Generation 911 (NG911) was created to reflect the mobile, digital, fast-paced world we live in and to support a range of communication mediums including texts, photos and videos. Now citizens can report a crime no matter where they are and provide a fuller picture for first responders to evaluate a scene.
Though there's a clear argument to be made for the implementation of NG911 and the emerging law enforcement solutions that support it, NG911 requires new computer hardware and software. That may prevent some agencies from using it in favor of sticking with their current system. As the use of NG911 continues to expand nationwide, emergency response will evolve, and agencies using old technology will be left behind. 
The Current and Future State of Enterprise Mobility Management
In May 2023, B2M released its Fifth annual State of Enterprise Mobility Survey and Report, which introduces new findings on the state of enterprise mobility solutions and supporting comparisons to the previous year's study.
The survey offered a number of results that are relevant to law enforcement technology and IT professionals, such as:
Ten out of 10 IT decision-makers say reliable mobile devices and apps in the handles of frontline workers are critical for productivity and workflows.
Eight out of 10 frontline workers say they can't do their job at least once a month due to problems with a mobile device or apps.
Only one out of 10 workers report problems each month to their help desk.
When considered in the context of law enforcement work, these statistics gain extra significance. The survey results highlight a growing need to move beyond MDM/EMM with a new set of tools to provide real-time visibility into the health and utilization of mobile devices.
Rugged, Mobile Technology Out in the Field
Police officers have to be able to share information quickly from anywhere. They also need reliable devices that have the same operating system, features and internet access as a desktop PC — but without being tied down to their desks. Rugged laptops have traditionally met this need, but now many law enforcement agencies are moving toward even more mobile alternatives in the form of ultra-mobile PCs.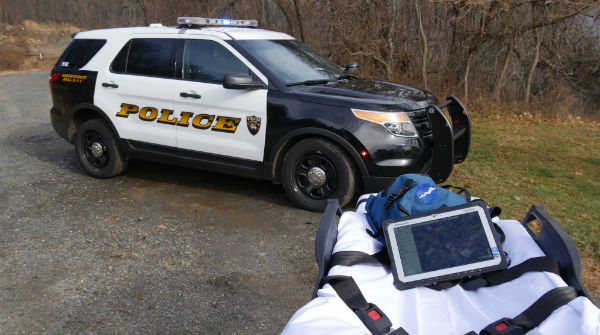 High-Quality Law Enforcement Technology Improves Officer Efficiency
The City of Mishawaka Police Department serves a population of more than 49,000 and prides itself in supporting officers with high-quality technology to help them perform their jobs more efficiently. The department had been deploying mobile bay units for streamlined record management since 2007, but it was in need of an upgrade.
The agency's officers were using numerous versions of aging rugged laptops, making the maintenance and repair process time-consuming for their small IT team. The Mishawaka Police Department deployed TOUGHBOOK 33 2-in-1 mobile computers on a one-to-one, device-to-officer ratio. The department experienced a seamless deployment process, working closely with Panasonic's Professional Services support team to design a custom configuration that worked with the department's unique version of CAD without the need for extra parts for vehicle docking.
Today, officers enjoy streamlined workflows, both in the field when it comes to crash reporting and issuing citations, and in the office when conducting interviews and training sessions.
Agency Deploys Multi-Factor Authentication on Police Computers for CJIS Compliance
The Phoenix Police Department serves a large metro area, employing more than 3,800 officers to support 1.5 million citizens. Officers rely on CJIS for up-to-date information as part of their daily work. The criminal history information, background checks, fingerprint database and crime statistics housed in CJIS databases are so sensitive that the FBI requires multi-factor authentication for all authorized users.
As more officers switched to rugged mobile police computers in the field, ensuring compliance with CJIS standards became difficult. Seeking a better way to strengthen security across the board, the department equipped officers with Panasonic TOUGHBOOK laptops running multi-factor authentication software. Now, its IT department can maintain CJIS compliance and confidently prove that only authorized users have access to department computers. 
Modern Law Enforcement Agencies Require Rugged Police Laptops
To be most effective and safe, police officers must be able to avoid hazardous situations while working productively and transparently. Equipped with police laptops that provide real-time access to traffic congestion, GPS maps, crime reports and safety hazards, officers can effectively maintain situational awareness while quickly identifying and diffusing potential threats.
Panasonic Connect offers a full portfolio of rugged laptops and support solutions designed specifically for the modern police agency. The solutions meet law enforcement's unique mobility needs, and help officers do their jobs safely, efficiently and confidently.