4 Ways to Enhance Law Enforcement Officer Safety and Productivity with Technology
May 17, 2023
Law enforcement officers face a wide range of challenges on the job, from managing potential safety hazards to effectively capturing digital evidence to support investigations. But as technology continues to evolve, new solutions are emerging to help officers complete their work more safely, efficiently, and effectively.
One example of this is the City of Mishawaka Police Department, which enhanced its operations with real-time communications and situational awareness solutions from Panasonic Connect. By using Panasonic's TOUGHBOOK® 33 2-in-1 device, officers in Mishawaka have been able to stay connected to critical information and collaborate more effectively in the field.
But Mishawaka is just one example of how technology is transforming law enforcement information management. In this article, we'll explore four of the best practices and latest solutions in law enforcement information management that are helping officers.
1. Transform officer data input with xPAK and barcode reader technology
Patrol vehicles are becoming increasingly overloaded with equipment and technology. Panasonic Connect offers the TOUGHBOOK 55 and TOUGHBOOK 40 with expansion pack (xPAK) barcode reader (BCR) technology, which enables law enforcement officers to quickly and accurately scan data from IDs, driver's licenses, and passports, eliminating the need for a handheld scanner, card swipe or to manually type information. With these rugged and reliable devices, officers can stay focused on their surroundings and complete tasks in a fraction of the time, as well as eliminate extra ancillary equipment.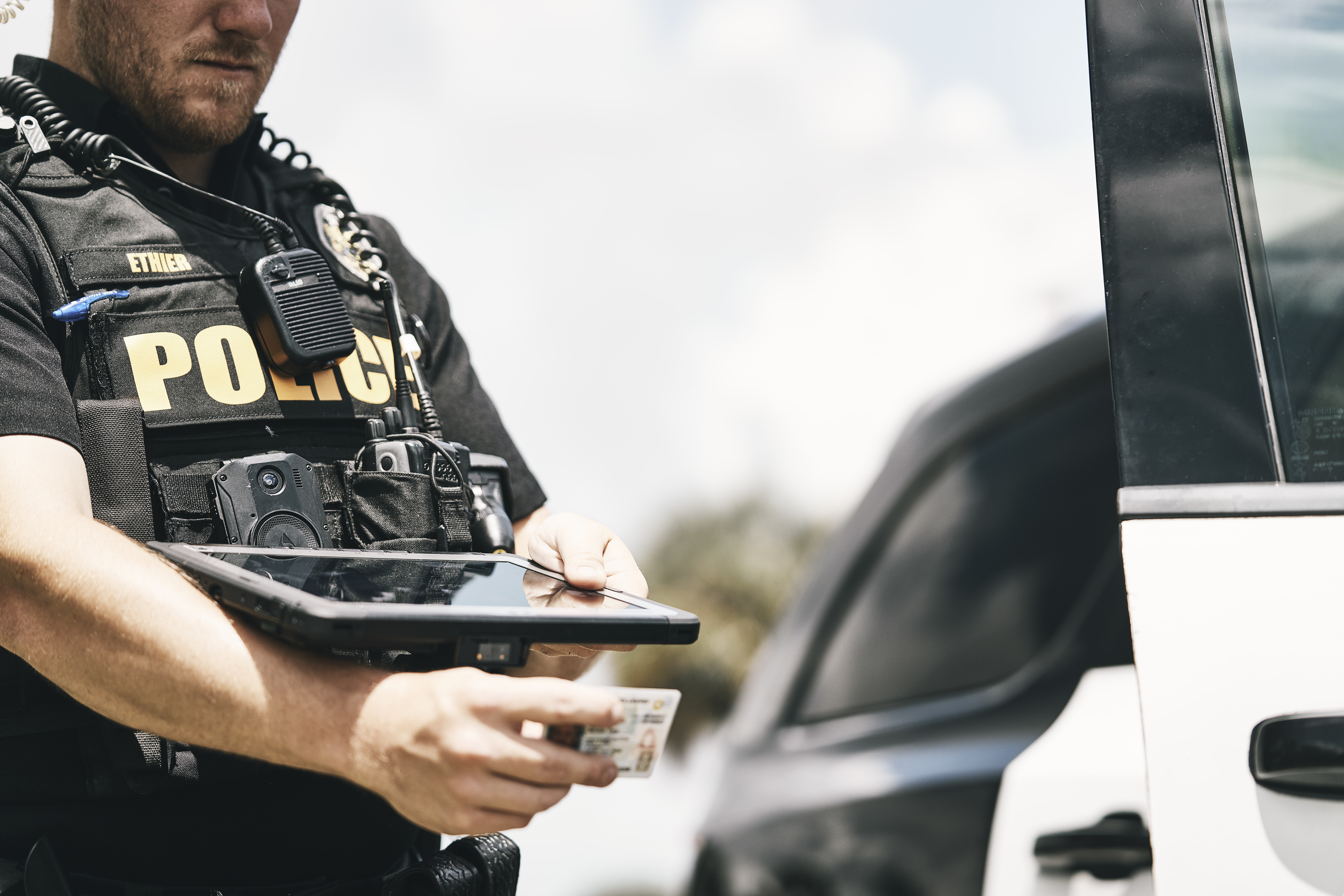 2. Protect CJIS Data with endpoint security software
Government agencies handling sensitive data must prioritize cybersecurity and compliance with the CJIS Security Policy. With Absolute's endpoint security tools, IT and Information Security teams can gain persistent visibility and control over every endpoint, regardless of network status or unauthorized access. Absolute allows for remote device locking and remote data removal in case of lost or stolen devices, providing automated compliance and remediation, and offering a verifiable trail to demonstrate regulatory compliance. By ensuring data remains encrypted and uncompromised, agencies can confidently provide compliance and maintain uninterrupted access to CJIS data, promoting officer productivity and business continuity.
3.  Boost Officer Productivity with Intelligent Technology
Law enforcement agencies are constantly seeking ways to improve officer productivity while maintaining safety on the job. Mobile technology has made significant progress in enabling officers to be more efficient, flexible, and aware. With software like VuLock, officers can reduce distraction from their mobile devices while the vehicle is in motion, without interfering with voice or data transfer. The application can be customized to display information like maps, dispatch, and CAD, even while in motion, ensuring officers stay informed and focused on their mission.
4. Solicit customer feedback sooner than later 
In every law enforcement department, officers have traditionally struggled to adapt standard technology solutions to their specific environment. At Panasonic Connect, we prioritize the voice of the customer, allowing them to dictate their needs. To ensure comprehensive representation, we formed a Law Enforcement Advisory Council comprising members from police agencies nationwide, encompassing various ranks, sizes, and agency types. Through this initiative, we gain valuable insights into their specific challenges, enabling us to incorporate this knowledge into our product design and development process. By soliciting this customer feedback before product launch, we develop solutions that cater to the broader law enforcement community's needs. 
Interested in learning more about how our technology can help your officers work more safely and efficiently? Contact our experts at mobilityinsidesales@us.panasonic.com.