Technology and Law Enforcement: What's Important to Leaders?
March 08, 2023
In a recent survey of law enforcement professionals, we asked about their top priorities for work and technology in the immediate future. We found that leaders were most concerned about employee experience and internal operations. To address these concerns, agencies are focusing on how they can use technology to streamline internal operations and help staff achieve higher levels of productivity.
Let's break down some of these findings and what they mean for the industry moving forward.
Internal Operations & Workforce Enablement
80% of our survey respondents reported being concerned with staffing, recruiting, and employee retention. This is in line with the vast number of city police departments facing significant staffing shortages. By mid-2022, the Kansas City Police Department was operating with 200 fewer officers, while Los Angeles experienced a shortage of 650 officers. In recent years, the main staffing challenge was keeping up with increases in officer resignations and retirements. To address this shortage, many of these cities have had to reallocate officers from detective and investigative work to fulfill patrol duties, limiting the scope of work departments can accomplish.
With fewer staff members, departments must focus on ensuring employees have the right digital tools to perform their work most efficiently. We have seen departments succeed by combining mobile devices with the right software solutions.
Take the example of reporting. Filing incident reports is a critical yet time-consuming portion of an officer's day. 38% of law enforcement professionals spend 2-4 hours per day on paperwork. 89% say that creating incident reports limited their time in communities, inhibiting them from building relationships and gaining a better understanding of the area.
With in-vehicle computers, officers can complete reports from the road immediately following the incident when the details are fresh. Speech-to-text software boosts productivity further by allowing officers to dictate their reports instead of typing them. This also enhances their situational awareness because officers can have eyes on their surroundings instead of having their heads down typing.
Data and Decision Making
Respondents agreed that informed decision making and communication are the areas where technology will have the most impact. Equipped with mobile devices, officers can collect much more data, such as the frequency of traffic stops in a particular area, and take photos and video while responding to an incident. Analyzing that information with software analytics tools provides officers a greater understanding of the situation.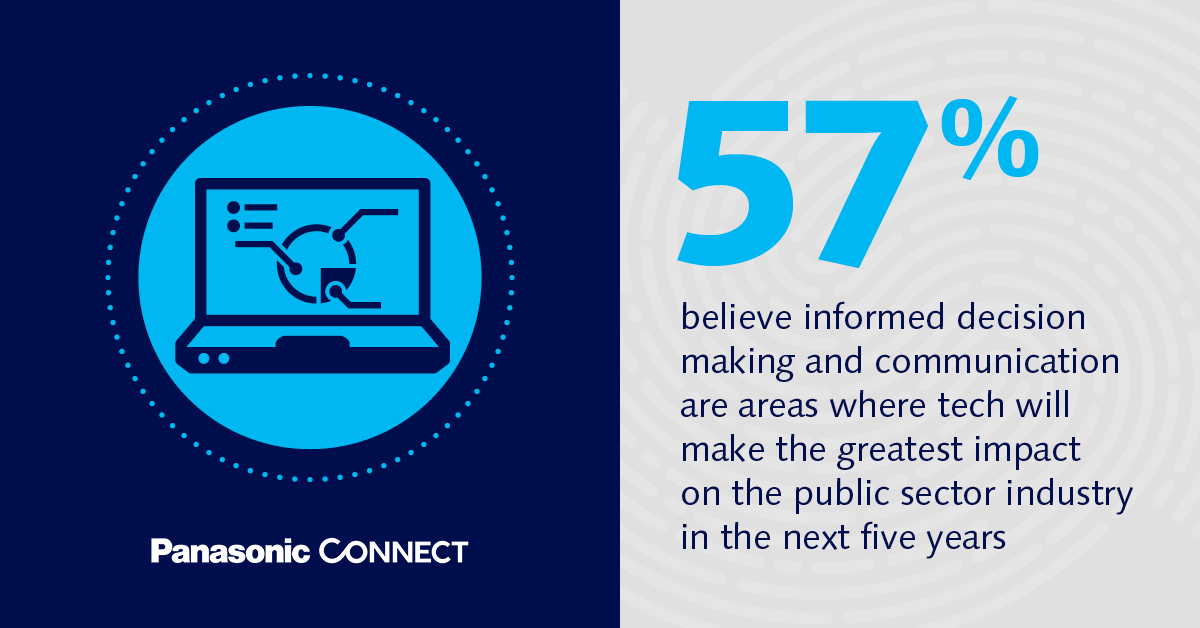 Sharing that insight with other officers and first responders is crucial to a well-coordinated response. Picture a large concert event where everyone's service is slow due to crowd congestion. Mobile devices connected to dedicated first responder networks ensure officers never lose connection while communicating with each other.
Employee Experience
The best way to retain employees is by fostering a strong employee experience. What impact will technology have on that experience?
73% believe automation and AI technology will have the most positive impact on the industry. For officers, that means automating manual processes like reporting and data analysis.
While enhancing the officer experience will be important, departments must also consider ways to leverage automation to streamline workflows for administrative staff, 911 dispatchers, and IT professionals. For dispatchers, that could mean automating call response for non-emergency calls to focus on time-sensitive emergency calls. In the case of IT staff, this could involve deploying asset management tools that predict the need for a device repair before it breaks.
Cities facing officer shortages are also struggling to fill non-law enforcement roles. The right technology can help fill those gaps and improve work experience overall.
Looking Ahead
2023 will be an important year for technology to make an impact on the law enforcement industry. For a more complete look into the survey findings, view our infographic.