Evaluating Mobile Access Options
February 14, 2022
In the industrial and manufacturing sectors, recent technological improvements to hardware and software have enabled mobile access functionality in new and existing equipment. This article provides insights into the methods of building in or adding on mobile access, common cautions and concerns, and key benefits. 
People everywhere are using their mobile devices to access home camera systems, intrusion alarms, robo-vacuums, and much more. So, it is only natural that some of these same users, many of whom work at industrial and manufacturing facilities, would like to obtain similar mobile access functionality for automated machinery and equipment.
Mobile access has been possible for many years, but it has only become truly practical in the past few years. This is because many technology improvements have intersected for mobile devices, wireless networking, cellular data performance, intelligent field devices, and internet/cloud resources.
While new equipment may be offered with automation options supporting remote access, there is a much larger installed base of existing equipment with legacy controls. Fortunately, hardware and software improvements are empowering OEMs, systems integrators, and end users to easily retrofit mobile capabilities for their equipment and machines.
More Mobile Methods
AutomationDirect carried out a 2016 survey which suggested just 28% of respondents were using mobile connectivity. Now in 2021, another survey indicates 62% of respondents now use mobile devices on a regular basis to monitor, and sometimes control, their industrial systems. While capable hardware and networking is making this possible, software improvements are a significant reason why mobile access is becoming more widespread.
Software provides several paths for building-in or adding-on mobile access to machinery and equipment:
A local hardware HMI terminal or PLC can serve up displays to mobile devices.
PLCs and/or HMIs can use the MQTT publish/subscribe protocol to transmit data to cloud-based brokers for consumption by mobile devices.
PLCs with a certification, such as for Microsoft Azure, can interact directly with these IIoT services.
Depending on the need, users can configure one or more of these options. Designers can build these devices into new equipment, or they can add HMIs or PLCs to existing equipment to monitor the data points of interest, and to serve them up for remote and mobile access, as explained below.
HMI and/or PLC serving data and displays
Some hardware HMIs, which may or may not have displays on-board, can deliver their graphical configurations to mobile devices. The latest PLCs and intelligent routers can be configured to do the same. One way modern HMIs and PLCs do this is by serving up the displays as web pages. These displays are viewable using any device capable of hosting a browser—such as a laptop, smartphone, or tablet—if the device is connected to the internet or a company intranet.
A second method is when the field device works with a cloud service, enabling users to simply add a software app to the mobile device to access visualization. As in the consumer world, many users prefer apps to other methods of interaction because they are easier to access, respond more quickly, and are simpler to implement.
MQTT to a cloud broker
MQTT has become a popular communications protocol for transferring data from field devices to the cloud due to its flexible and efficient performance. Using HMIs and/or PLCs supporting MQTT, users can readily and securely configure their own software broker running on-site or in the cloud, allowing data to be accessed by mobile devices. This is a very economical solution that meets the needs for many end users and OEMs for transmitting and visualizing machine data. Even some micro-PLCs now offer MQTT and wireless networking, making them ideal for retrofitting existing machines with IIoT capability for well under $200.
Commercial cloud IIoT
Another route for accessing machine data is to add modern PLCs certified to interoperate with popular commercial cloud IIoT platforms, such as software solutions running on Microsoft Azure. This path is especially useful for those users who want to take advantage of the extensive IIoT computing resources available through these platforms. Some PLCs also offer an embedded Rest API which opens a wide range of possibilities when used with modern IT software applications like Node-RED.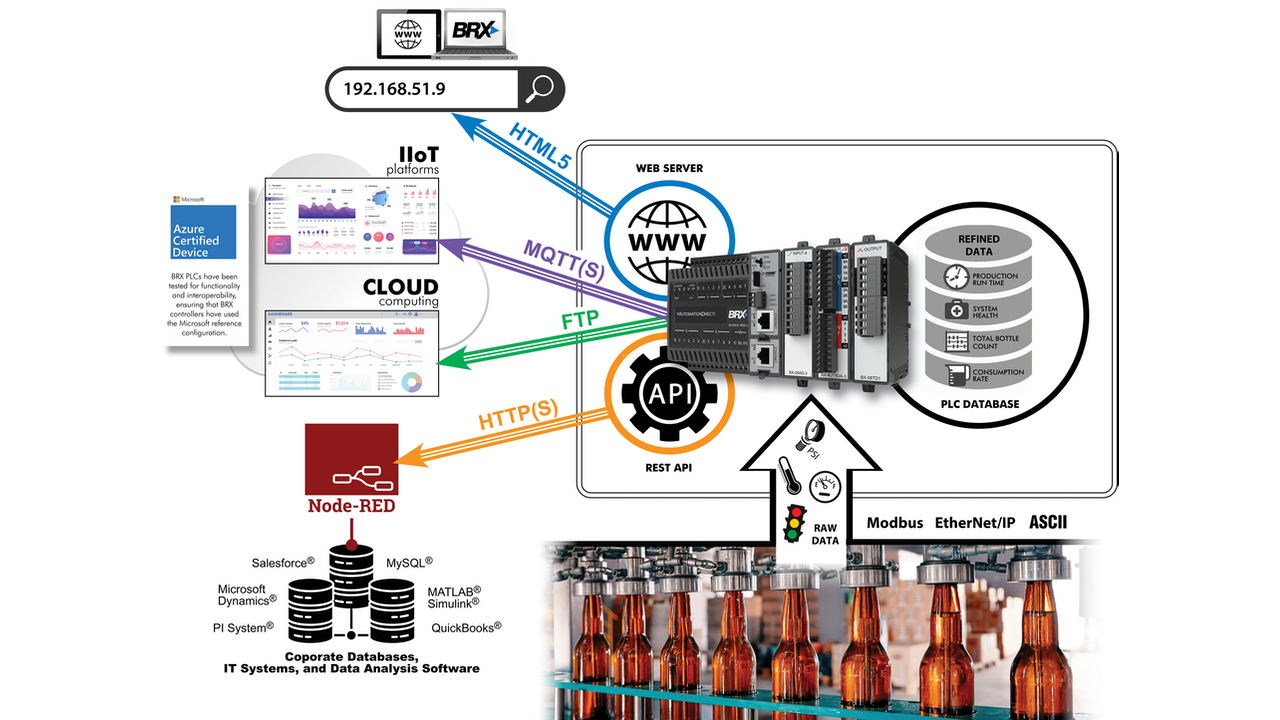 Mobile Cautions and Concerns
Although software technologies have made it easier than ever to gain remote/mobile access to automated equipment data, this connectivity also creates cybersecurity concerns. Some studies suggest that among industrial users not yet taking advantage of mobile access, over 80% of them cite security concerns as a significant reason.
Therefore, any time field devices like HMIs and PLCs will be used to support remote/mobile access, it is important to ensure that security features are built-in to both the hardware and software. This includes on-board username/password credentials, network connections closed to the outside world by default, and the capability to use secure versions of communication protocols.
Other end users may have resisted pursuing mobile access because of apprehension about issues such as:
Whether small displays are usable.
Insufficient performance.
Difficulty of development, deployment, use, and upkeep.
Costs.
Fortunately, each of these topics has been handily addressed by the newest generation of automation hardware and software. In addition, most of these capabilities are granular, so users can start small with a pilot project to see how the technology works, and then scale it up as they gain confidence.
Getting Results
Whether users just need to remotely access a few basic data points from a machine, or if they want a richer remote visualization experience more like a traditional graphical HMI, today's hardware and software provides flexible options for new and existing equipment.
AutomationDirect's most recent study indicates that of those who adopt mobile access, almost 20% are completely satisfied, while over 50% use it but would like more features. That still leaves a good percentage of those who find the user experience, management effort, and/or cost to make mobile access not worthwhile. However, the trends indicate that adoption of mobile access for industrial equipment will continue to rise.
Following are some benefits survey respondents indicated are helping them realize value from mobile access:
Notifications for alarms and warnings.
Support for diagnostic and preventative maintenance.
Insights to drive process improvements.
Data for quality control.
Information for improving energy efficiency.
The benefits extend to many aspects of operating companies. Operations personnel find it easier to visualize equipment operation, no matter where they or where the machines are located. When there is trouble, maintenance personnel can react faster, and if a visit is required, they can arrive onsite with the correct tools. And over the long term, engineers can analyze the data delivered by software to optimize operations.
These benefits are realized because of modern automation hardware and software developments, as these have addressed user concerns about functionality, security, and ease-of-use.
About the Author
Bill Dehner has spent the majority of his fifteen-year engineering career designing and installing industrial control systems for the Oil and Gas, Power, and Package Handling industries. He holds a bachelor's degree in Electrical Engineering with an associate's in Avionics from the USAF and is currently working for AutomationDirect as a technical marketing engineer.
This article was from Manufacturing.net and was legally licensed through the Industry Dive publisher network. Please direct all licensing questions to legal@industrydive.com.