The Enhanced TOUGHBOOK 55: A Versatile Solution to Support Mobile Workers
August 10, 2021
To continue providing technology that evolves with your job's changing needs, we've updated the popular TOUGHBOOK 55, offering enhanced performance and more versatility than ever. Since 2019, customers have embraced the unparalleled customization of the award-winning TOUGHBOOK 55. With the device's innovative modular design, long battery life, and the support of Panasonic ProServices, workers can get the job done, no matter where the workday takes them.
We've added new enhancements to the TOUGHBOOK 55 to provide mobile workers with added flexibility, functionality and performance in the most unpredictable and challenging environments. The latest TOUGHBOOK 55 Mk2  offers additional user-removable expansion packs (xPAKs), four integrated tetra array microphones and all day battery life. It also includes new features like 11th Gen Intel® CoreTM i5 and i7 Processor, with Intel vPro® Technology which doubled the standard memory from the last version while also increasing speeds by 50 percent, in addition to offering optional Intel® Iris® Xe graphics. With Thunderbolt™ 4 USB-C port, the device is able to transfer data 8x faster than the previous model. The TOUGHBOOK 55 Mk2 can connect to monitors and peripherals, charge cell phones, and even charge the PC itself with Power Delivery. The right USB-A port doubled in speed. With the ability to connect to Wi-Fi 6 and Bluetooth 5.1, the updated TOUGHBOOK 55 also offers enhanced connectivity and security.
For first responders, federal government users, manufacturing, utilities and field services organizations, who require the form factor and functionality of a laptop, with the durability and usability of rugged-built solutions at the point of service, the enhanced TOUGHBOOK 55 is the solution of choice.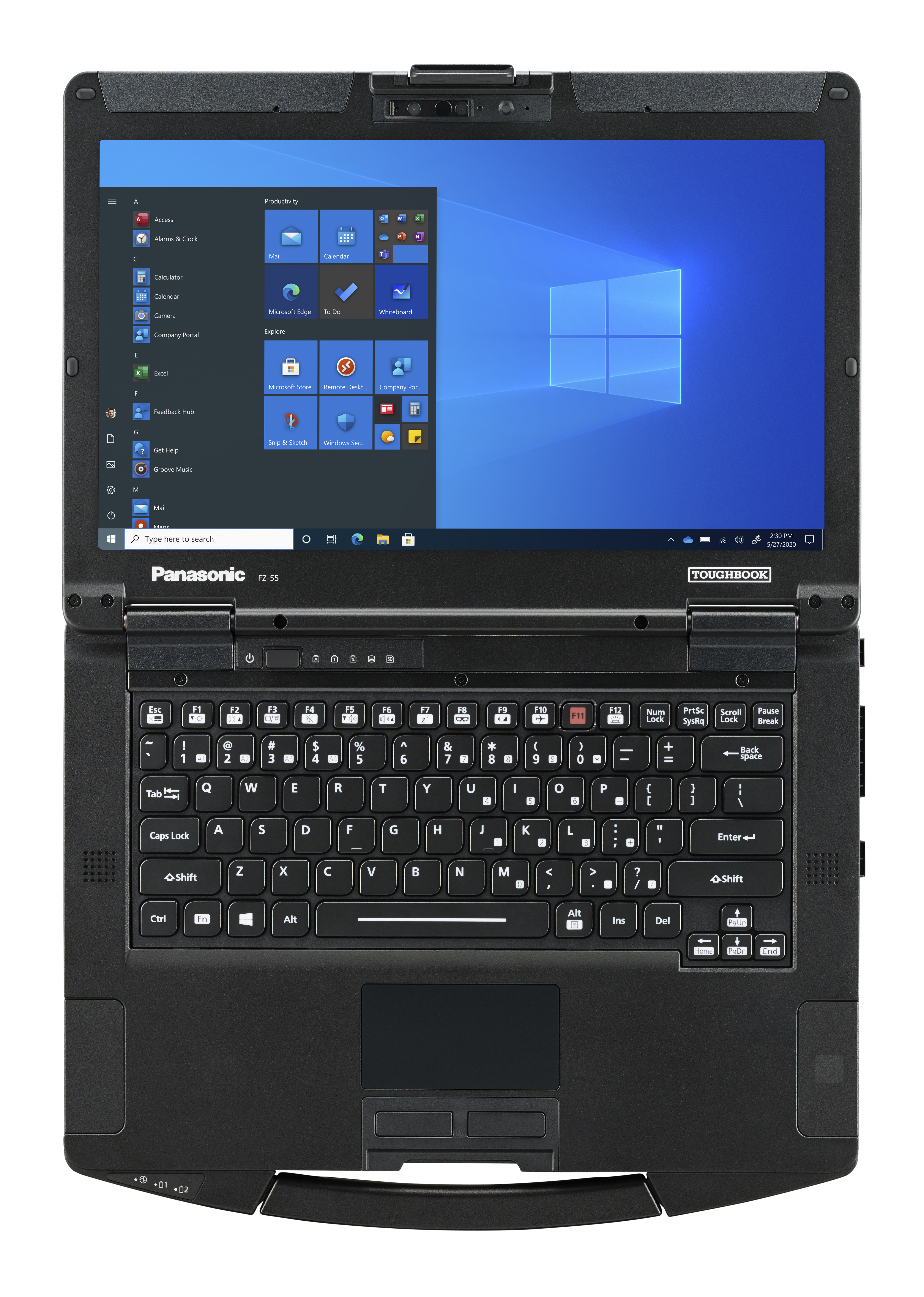 For the Public Sector
Fully functional as a laptop with a 14" display, yet lightweight and ergonomic to maintain portability, the TOUGHBOOK 55 is a popular choice for public sector professionals. For law enforcement, the TOUGHBOOK 55 is mounted in many vehicles, with the screen size and keyboard optimal for data entry, evidence collection and information assessment. Additionally, IT departments can program the F11 key to connect with Computer Aided Dispatch (CAD), which officers can use to alert team members in an emergency. For evening shifts, the TOUGHBOOK 55's night mode and color-selectable backlit keyboard helps reduce eye fatigue and enables users to stay more situationally aware. Additionally, new to the TOUGHBOOK 55, is the barcode reader xPAK, which is the ideal scanning application for driver licenses and is compatible with the old (mk1) and new version (mk2) of the TOUGHBOOK 55.
With all day battery life and hot swap with the optional 2nd battery, frontline workers and EMS professionals can ensure they are always powered up and connected whenever and wherever duty calls. With an increasing reliance on verbal communication and voice detection, the TOUGHBOOK 55 provides workers with loud 92db speakers and four integrated tetra-array microphones, dramatically increasing speech recognition accuracy and omitting ambient noise which could distort inputs or communication. The TOUGHBOOK 55 also supports FirstNet Band 14, giving subscribers anywhere access to the dedicated, physically separate FirstNet network core.
For Federal
The TOUGHBOOK 55's user-removable expansion packs (xPAKs) are ideal for Federal use cases that require deployments in remote and often harsh locations, for extended periods. Through the use of a single base unit, military operations can swap, change or repair functionalities and external ports on the laptop using xPAKs. This means that organizations can order one unit, alongside a number of additional xPAKs, and have the option to simply swap and replace with spare inventory, versus taking the device out of rotation.
New for the TOUGHBOOK 55 mk2 is dual SIM (physical SIM + eSIM) and support of CBRS Band 48, allowing customers to work with wireless carrier of their choice to set up their Private LTE network, which offers a more secure alternative to public Wi-Fi network.
The balance of screen size, reliability and portability renders the TOUGHBOOK 55 a popular solution forecal communications equipment. This extends to additional Federal applications in the field, from military vehicle maintenance to research labs to water and soil testing, and many other applications where workers are dealing with fluids, dirt, dust, chemicals, and other potentially damaging substances.
For Utilities, Field Services and Manufacturing
Panasonic has handheld, tablet and 2-in-1 computers for field service jobs that require prioritizing form factor and a smaller screen size for ergonomic comfort and efficiency. Where the TOUGHBOOK 55 truly shines in these industries is from a management and operations perspective. The TOUGHBOOK 55 boasts all of the same benefits demanded in the outdoors or extreme environments. This includes the optional 1000 nit bright touchscreen, to anti-reflective and anti-glare screen treatments, for when management and operations need to hit the road or visit a site.
With the TOUGHBOOK 55, workers can transition seamlessly between the field and the supply chain, to the office. For a floor manager or supervisor, the Intel® 11th Gen vPro™ processors delivers powerful performance with added enterprise security and speed. Combined with the larger screen and the backwards-compatible nature of the xPAKs, the TOUGHBOOK 55 is the perfect solution for individuals working with more complex software and reporting including charts and orders, mapping applications, and tasks that require enhanced graphical computing requirements.
Solutions Powered by Panasonic ProServices
The new TOUGHBOOK 55 is backed by ProServices, Panasonic's solution to simplify testing, deployment and repair of device fleets. For operations ordering large numbers of units of various configurations of xPAKs, finding the time and space to set up these solutions and get them in the hands of workers ready to go, can be a challenge. With ProServices, you can have units pre-configured, pre-built, and pre-installed, which helps to get you up and running faster. Combined with the TOUGHBOOK Smart Essentials suite of services that help measure battery, device and system performance, businesses will be supported today, while also prepared for the future. ProServices and Smart Essentials are trusted applications to help all customers get the most out of the new TOUGHBOOK 55.
The newly updated TOUGHBOOK 55 is available for purchase now. For complete product details and to learn more about the device, visit our website.