6 Advantages TOUGHBOOK Mobile Computers Provide the Military
July 21, 2022
Soldiers need rugged mobile devices they can take anywhere, and count-on everywhere. When it comes to performing their duties — from the field to the base — military personnel rely on the right technology to help get the job done.
But not all rugged devices are created equal. You need computing power that is portable, durable, and secure. Rugged mobile devices are an essential tool for everything from flight control operations to field communications.
Panasonic Connect's mobility solutions are engineered for dependability — even under the toughest battlefield conditions. Our TOUGHBOOK devices are purpose-built for heavy duty work and deliver a combination of functionality, performance, and reliability.
Here are six key benefits of Panasonic's rugged mobile technology that have made the TOUGHBOOK a world leader when it comes to mobility solutions for the military.
Lower Total Cost of Ownership
One of the most significant benefits of TOUGHBOOK rugged devices for military applications is total cost of ownership (TCO). While TOUGHBOOK devices require a higher initial investment than standard commercial-grade products, they offer a lower TCO over time. Lower costs can help you stretch your budget dollars while ensuring that the best available technology is being used in the field.
A combination of extremely low failure rates for TOUGHBOOK devices, and long life cycles, contribute to a favorable TCO. According to an IDC white paper, sponsored by Panasonic Connect, TCO savings can reach 15% over a five-year period. That's because of the reliability and extended use time of our rugged mobile devices.
Our TOUGHBOOK line of rugged laptops, tablets, and handhelds help control costs without sacrificing performance. In fact, our devices are over five times more reliable than the average laptop used by businesses in the United States. That's based on a comparison of actual TOUGHBOOK device performance data compared with PC Magazine reader-reported data for competitors.
Engineered for Functionality
Military users need devices they can depend on and take anywhere. Rugged devices give support personnel and troops on the ground the peace of mind that they will be able to perform mission-critical operations on the base or on the move. To meet this challenge, we engineer our devices from the ground up for military-grade mobility.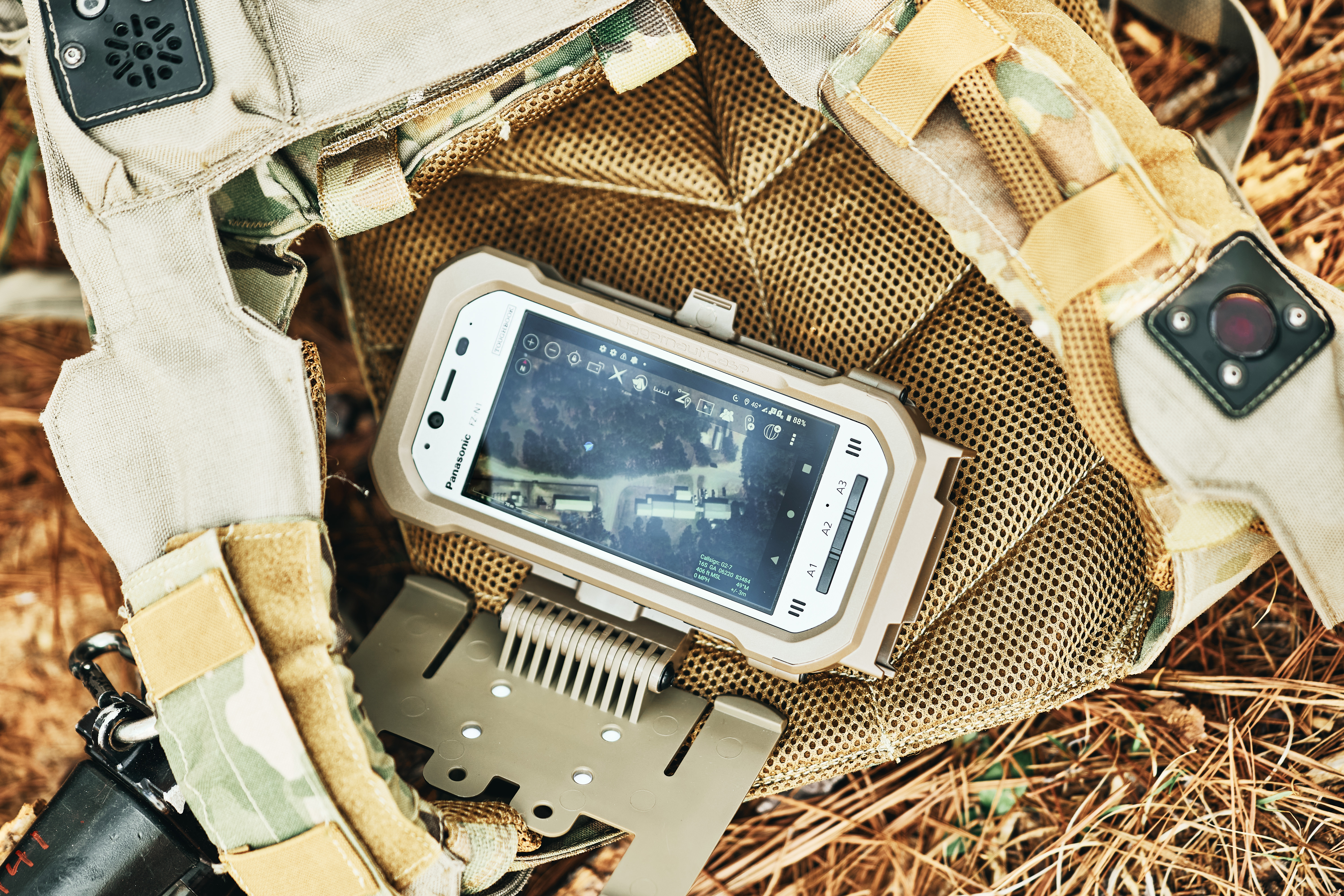 To provide this industry-leading performance, our TOUGHBOOK devices undergo rigorous testing that often exceeds the test specifications of MIL-STD 810H. For example, the MIL-STD-810H "Method 500" altitude test calls for testing in a chamber that simulates an altitude of 15,000-feet above sea level. But the TOUGHBOOK 33 laptop, for instance, is tested at a simulated altitude of 50,000-feet in order to certify their performance under extreme low-pressure conditions.
We're also the only major manufacturer that designs, builds, and tests its mobile devices in its own production facilities. This means we can control quality so that our customers get optimal performance and reliability when they need it.
Optimized for Operability
Another feature of the TOUGHBOOK line is the high performance of our devices. This includes customizing the configuration to meet your requirements.
Our innovative 2-in-1 laptops are perfect for use in an office or in the field. They can also dock in a vehicle, or convert into a tablet for increased mobility. The 2-in-1 flexibility of the 10-inch TOUGHBOOK G2 and the 12-inch TOUGHBOOK 33, for instance, enables you to quickly convert from a lightweight laptop into a versatile tablet. These laptops also include a bridge battery that enables hot-swappable battery replacement — without disrupting your workflow.
Batteries aren't the only swappable feature found in TOUGHBOOK products. The TOUGHBOOK G2, for instance, offers a variety of modular expansion pack (xPAK) options that allow military users to adapt to virtually any situation, including a thermal imaging camera and additional ports. The TOUGHBOOK 40 laptop takes modularity to a new level, featuring eight modular, user-replaceable parts—including four expansion areas.
Designed for Ease of Use
Ease of use is a hallmark of the TOUGHBOOK rugged mobile device line-up. Every form factor and model is optimized with the workflow and productivity of end-users in mind. Our devices are also built with essential mobile productivity features, such as sunlight-viewable screens, a handle to easily carry the laptop, backlit keyboards for low-light conditions, and patented rain-sensing and glove touch-enabled screen technology for handheld devices.
The powerful TOUGHBOOK N1 Tactical handheld is an example of a user-friendly design. It offers a user-replaceable battery, daylight readable screen and rain mode. It also supports Land Mobile Radio (LMR) devices. With a long-lasting battery, you can stay in constant communication during missions and maintain situational awareness of your team while running apps like ATAK.
Certified as TAA Compliant
The Trade Agreement Act (TAA) — created in 1979 — is intended to foster the growth and maintenance of a fair and open international trading system.
One of the primary requirements of the TAA is that products purchased by the United States government can only be made in the U.S. or by a designated country. To meet that requirement, the TOUGHBOOK family of devices is TAA compliant. That means our TOUGHBOOK mobile devices are ready for immediate deployment by U.S. military users.
Backed By 24/7 Service and Support
An important part of the value we provide as a technology partner is exceptional support and service. Our rugged computers include the strongest warranties in the business and are loaded with industry-leading productivity software. Moreover, our ProServices team — a U.S.-based network of repair centers, engineers, and industry experts — provides 24/7 customer service.
ProServices for TOUGHBOOK devices include:
Pre-deployment consulting
Engineering design and field engineering expertise
Deployment services, such as imaging, asset tagging
Warranty coverage and maintenance services
Hard drive replacement
End of life recycling
Panasonic ProServices can help you with quicker deployment times, greater availability of IT resources, reduced ownership costs, and increased productivity.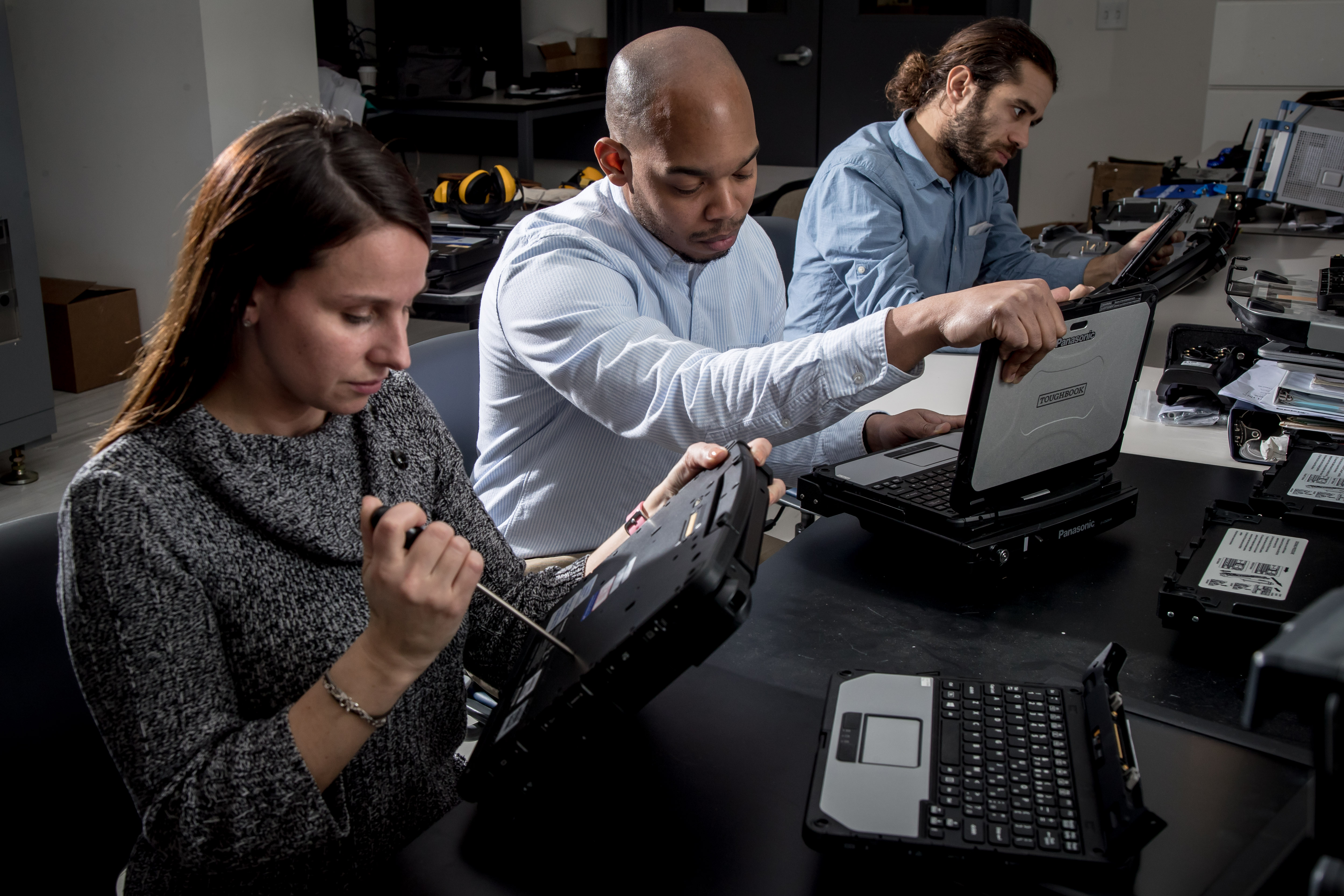 You also can extend the standard three-year warranty that protects TOUGHBOOK devices with the Panasonic Ultimate Care Warranty, which provides comprehensive coverage for all of your TOUGHBOOK mobile devices. This eliminates the need for out-of-warranty repairs and minimizes downtime in the event of a device problem. A 24/7 hotline and website also provide dedicated support for our customers.
From military bases to the front lines, our laptops, tablets, and handhelds are built to withstand everything from impact and grime to high altitude and harsh weather.
Learn more about the TOUGHBOOK solutions for military.