Mobile Device Security for the Way We Work Today
April 13, 2022
The pandemic changed everything — not only how people must protect themselves, but how companies must protect their users, data, applications and devices. Americans today use mobile devices for both personal and professional reasons, and hackers have taken note. A report from Omdia and Google found that nearly half of businesses experienced a mobile-related security incident in the previous 12 months. Yet, a Check Point report found that 97% of organizations faced mobile threats using multiple attack vectors in 2020.
These statistics should encourage organizations in all industries to take a fresh look at how they handle mobile security, including physical device security, application security, and identity verification.
Comprehensive Mobile Security Requires Layers of Protection
Traditionally, companies relied on mobile device management (MDM) or mobile application management (MAM) solutions for protection, but these fixes may fall short on their own. MDM solutions typically allow IT administrators to enforce and control security policies on mobile devices, while MAM solutions focus on securing and enabling corporate IT control over applications on users' corporate and personal mobile devices. Each option can cover some portion of mobile security needs, but bad actors today can often find loopholes and push past the controls.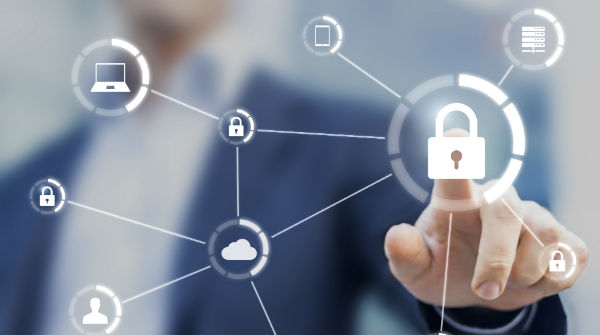 Comprehensive mobile security today requires more layers. A broader, enterprise-grade mobile security management program will cover physical security, application security, and identity verification. These solutions can help businesses prevent, detect, and remediate security threats targeting the mobile workforce – including mobile endpoint, application, and network attacks – by gathering threat intelligence from devices and other sources.
To ensure the tightest security possible, it makes sense to start with the most secure platform possible — one that utilizes the latest, most secure processor. The Intel Hardware Shield, part of Intel vPro, serves as a good example. Other security features to look for on devices include cable lock slots and security embedded in the firmware. Panasonic, for instance, embeds Absolute's Persistence technology into the BIOS.
Effective software-based mobile security management solutions should provide:
Login and authentication protection. Here, identity becomes critically important. Functions in this category can include biometric identification, stringent password policies and ideally, multi-factor authentication, which requires two credentials for login, like password and fingerprint.

Secure device management. This service provides visibility and control over the location of mobile devices, along with what they do, how they perform, and what security or compliance risks they face.

Protection against phishing and other malware. Today, major mobile security software vendors deliver effective anti-phishing and anti-malware functions.

Device protection. Important features include the ability to freeze lost or stolen devices, along with capabilities to set geofences and timers to automatically trigger these actions when devices leave a designated area or stop responding.

Protecting data in motion. Protecting data on the go is a harder nut to crack, but mobile VPNs typically can meet this need.

Automatic application and device setting updates: While this may not seem like an important mobile security feature, it's actually a critical one. Hackers are notorious for taking advantage of out-of-date settings.
Mobile Security in Action
Today, all organizations in all environments require mobile security solutions. The following examples detail how threats have played out in a variety of industries.
An Australian pharmacy chain replaced its manual and desktop IT infrastructure with mobile devices about ten years ago and needed a way to increase data security to protect patient privacy. The company also required the ability to deploy mobile apps remotely and improve visibility in the field. By adopting the SOTI MobiControl, the company can now verify every device, maintain appropriate software updates and permissions, and protect patient information. Since working with SOTI, the company has also seen a double-digit reduction in help desk ticket quantities.

After using VMware Workspace ONE to provision thousands of mobile devices that would host sensitive police applications, one of the largest law enforcement organizations in Canada chose to extend its use of VMware tools to ensure compliance and guarantee that only authorized users have access to critical systems. Looking to expand beyond its traditional anti-virus system — which blocked only previously known threats and often prevented employees from working for up to two days while the team contained the threat and restored the files — the team chose VMware Carbon Black App Control. Today, the security team uses the tool's automation features to recognize and approve trusted applications.

A water authority in the Netherlands, which initially supplied its workers with mobile devices in 2013, needed to expand its mobile capabilities to enable secure productivity everywhere as COVID-19 sent workers home. At the same time, the water authority required compliance with the Netherlands' 2020 update to its information security compliance framework. The company chose to implement Ivanti's Zero Sign-On to solve the problem, which eliminates password-based authentication while maintaining secure business continuity and productivity. Once the organization determined the solution worked, it enabled the same capabilities for unmanaged, employee-owned mobile devices. To access cloud-based resources, users scan a QR code issued from their company to confirm their trusted identity.
Comprehensive mobile security is clearly no longer just a nice-to-have. For businesses in today's world, it's a must-have, and the more feature-rich the solution, the better. When combined with a modern rugged mobile device, these solutions can go a long way toward ensuring security for today—and for whatever threats come next.
Learn more about how Panasonic ProServices can help you find the right mobile applications to protect your data.