Boeing sees 5G, drone inspectors and augmented reality training key to future aircraft maintenance
August 25, 2023
The U.S. military increasingly relies on new technologies to drive operational efficiencies. In the article below, learn how the Air Force is turning to drones, 5G, and cloud storage to optimize maintenance processes and give aircraft more time in the sky.
---
In the eyes of defense contracting giant Boeing, the future of aircraft mission and training readiness will rely on automation enabled by 5G connectivity to ensure planes spend less time in hangers for repairs and more time in the air.
Right now, the company is evaluating how routine maintenance on its aircraft can be completed faster and more accurately with the help of autonomous technologies that can assist human operators, who themselves may have been trained using augmented reality.
At the heart of the effort are two parallel programs: Autonomous Aircraft Inspection (AAI), which uses drones to assist with maintenance, and a Microsoft Hololens-enabled AR training initiative dubbed Augmented Training Operations Maintenance (ATOM).
Beyond their own operations, during a demonstration at the company's Arlington, Va., headquarters Tuesday, company officials made their case for the potential for both programs to aid the US Air Force and keep more American planes air-worthy.
Autonomous Aircraft Inspection: A Digital Toolbox For Technicians 
Thousands of miles away, at Joint Base Pearl Harbor-Hickam in Hawaii, the Air Force has already tested how drones can help with maintenance readiness for its C-17 aircraft through Boeing's AAI program. The idea, with which the Air Force has been experimenting for years, is to essentially digitize inspection workflow by using a drone, this one made by autonomous aviation systems company Near Earth Autonomy using Boeing software, to help technicians conduct routine maintenance checks – things like identifying corrosion and missing rivets.
"Our goal here is … a digital toolbox, per se, of different capabilities that are [original equipment manufacturer] backed, so they never have to worry about concurrency, they never have to worry about … is this the right … module on the aircraft where this particular sustainment or training tool is being applied," Scott Belanger, team leader for next generation product support for Boeing Global Services, told reporters.
With AAI, an airman picks what part of the aircraft will be inspected and the drone collects photos, which are delivered back to the airman on the ground, Alli Locher, senior product manager at Near Earth Autonomy, explained. So far, five drones have been approved and three drones have been funded by DoD, Belanger said.
"The other key here with 5G that's really important is it's great having photos, but one of the major problems that we've seen all across the industry is … there's a lack of labor right now and a lack of resources available to have the right knowledge in place to actually be able to assess damage," Locher said. "You might not have the person physically there. So how do you share resources, how do you share photos and make sure that you can collaborate effectively?"
That's where the cloud comes into the play. Photos from the drones, which are owned by the Air Force, are stored in a cloud environment and analyzed, making the data accessible from anywhere. That's particularly useful if a defect is detected, and technicians in different places can collaborate and come up with a plan on how to tackle the problem. 
Still, the technician essentially has the final say on what data is stored up into the cloud, Belanger said, minimizing automated false alarms. "In other words, there's not a scenario where the drone and the associated damage detection software is just going to flow damage straight to the cloud without the human technician concurring," he added.
The system is currently only trained for C-17s, but it can be applicable across the entire aircraft fleet, Locher said. It's just a matter of loading the models into the Boeing software. C-5 aircraft, for instance, were recently loaded into the system, she added. 
Belanger admitted AAI isn't perfect, but claims it's been proven to be more accurate than just a human working alone. He estimated the accuracy level at about 78 percent. Using drones can also drastically reduce the time it takes to perform, cutting pre-flight inspections from four hours to just 30 minutes, Locher said.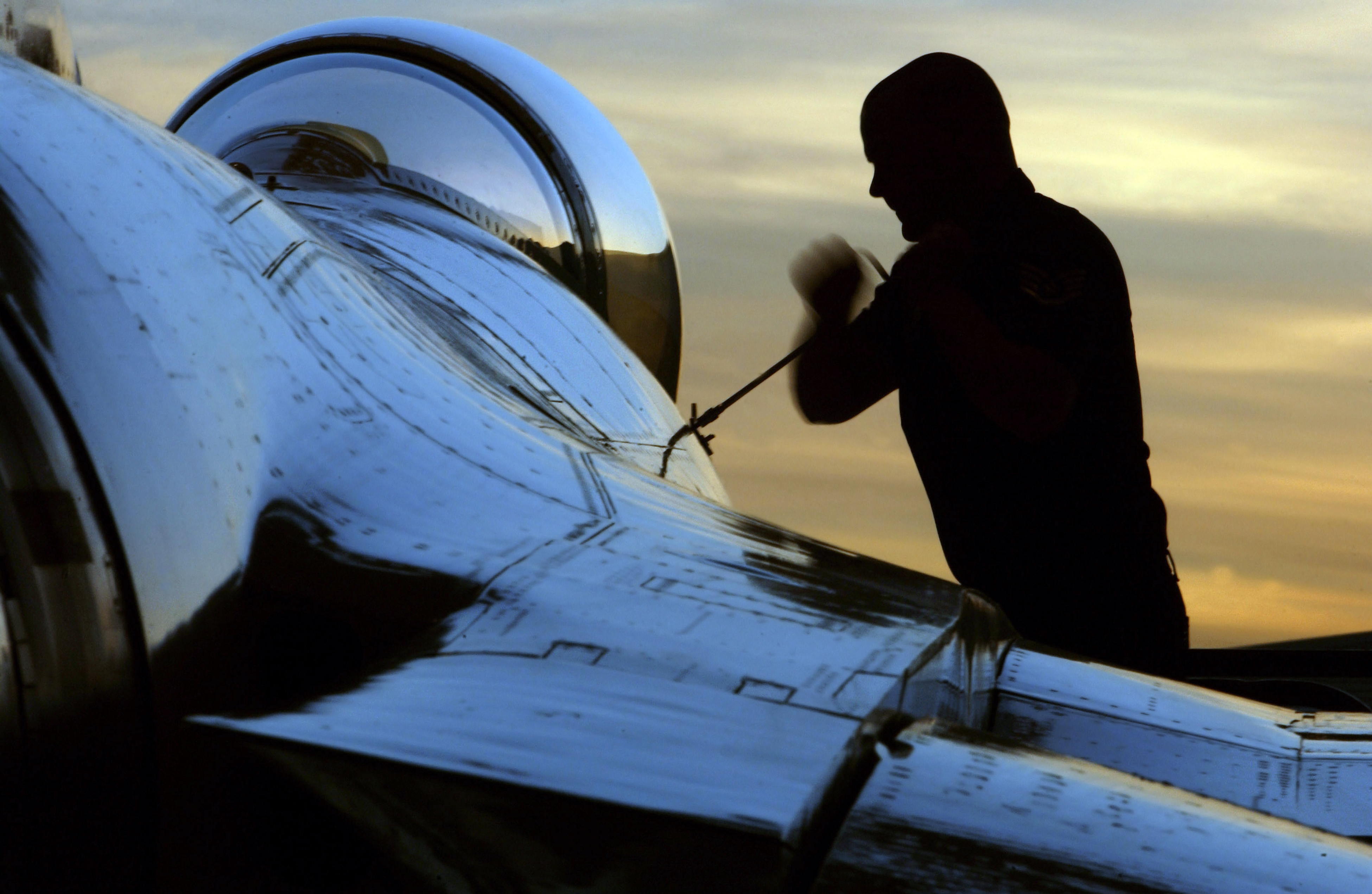 The system isn't meant to completely replace a human operator, either. Belanger said there is a "safety observer" who can take control of the drone if there is a problem. Belanger added the process to train operators is about eight hours, and eight people have been trained so far at Joint Base Pearl Harbor-Hickam.
"So we're not trying to replace the human inspection, we're trying to inform it," he said. "We're trying to upskill that human inspection, so when they do go on the [C-17] tail, they're not guessing. They know exactly what to bring, they know exactly what to expect. And in the end, they're going to get the aircraft out of the hangar, back to the crews, back into the fight much, much faster."
Augmented Training Operations Maintenance 
In a separate effort, Boeing says airmen at Joint Base Pearl Harbor-Hickam are being equipped with a Microsoft Hololens headset that allows them to use augmented reality for training, also using 5G for high-speed connectivity. Boeing has partnered with Chicago-based Enduvo, which builds C-17 training modules that are uploaded into the hololens. (A spokesperson for Boeing told Breaking Defense on Wednesday that the modules aren't limited to just the Microsoft Hololens and can be used in any other AR/VR headset.)
Van Holland, a manager on the Boeing Global Services team, demonstrated to reporters how the process works via live video feed at the base from a point of view of the headset he was wearing. While running the application, Holland brought up his hand in front of him, bringing up a digital 3D rendering of an aircraft part and a display menu of different options built into the application.
"One of the things that's great about this is all these sorts of capabilities are things that I want simultaneously," Holland said. 
Belanger said ATOM was particularly useful during the COVID-19 pandemic. "We have eight international C-17 partners, and they bring their aircraft back to the United States for recurring modifications and maintenance," he said.
"Well, during COVID the Australians couldn't bring their aircraft back here," Belanger continued. "So what did [Holland] and his team do? They boxed up some of these ATOM goggles [and] sent them to the Australians. And while they were not able to do everything, they were able to do some pretty serious maintenance right there in Australia with secure reach back and the ability to dial in Boeing engineers everyday to walk through some pretty complex maintenance actions."
He added that the company wants to expand the ATOM project to the Navy at Whidbey Island, Wash.
Although AAI and ATOM are technically separate programs, the hope is that in the future they will work together in some capacity. Both efforts are still in the early stages of development. 
"I can easily see one day where the information collected using the drones can be sent back to the headset," Locher said.
This article was written by Jaspreet Gill from Breaking Defense and was legally licensed through the Industry Dive Content Marketplace. Please direct all licensing questions to legal@industrydive.com.