New Military Tech: What Do Military Forces Need?
November 04, 2022
Military personnel can't afford downtime, and the computing equipment they use has to be as dependable as their weapons systems. Today's troops rely on technology to create portable command-and-control posts on the battlefield. They need a reliable tool to access real-time information and control advanced surveillance and unmanned systems used to complete missions. In the field, uninterrupted communications are vital for relaying surveillance information and receiving mission orders. Modern military forces also require complex technology systems. This often entails combining high performing computers with specialized software, and enlisting the help of experts to bring it all together.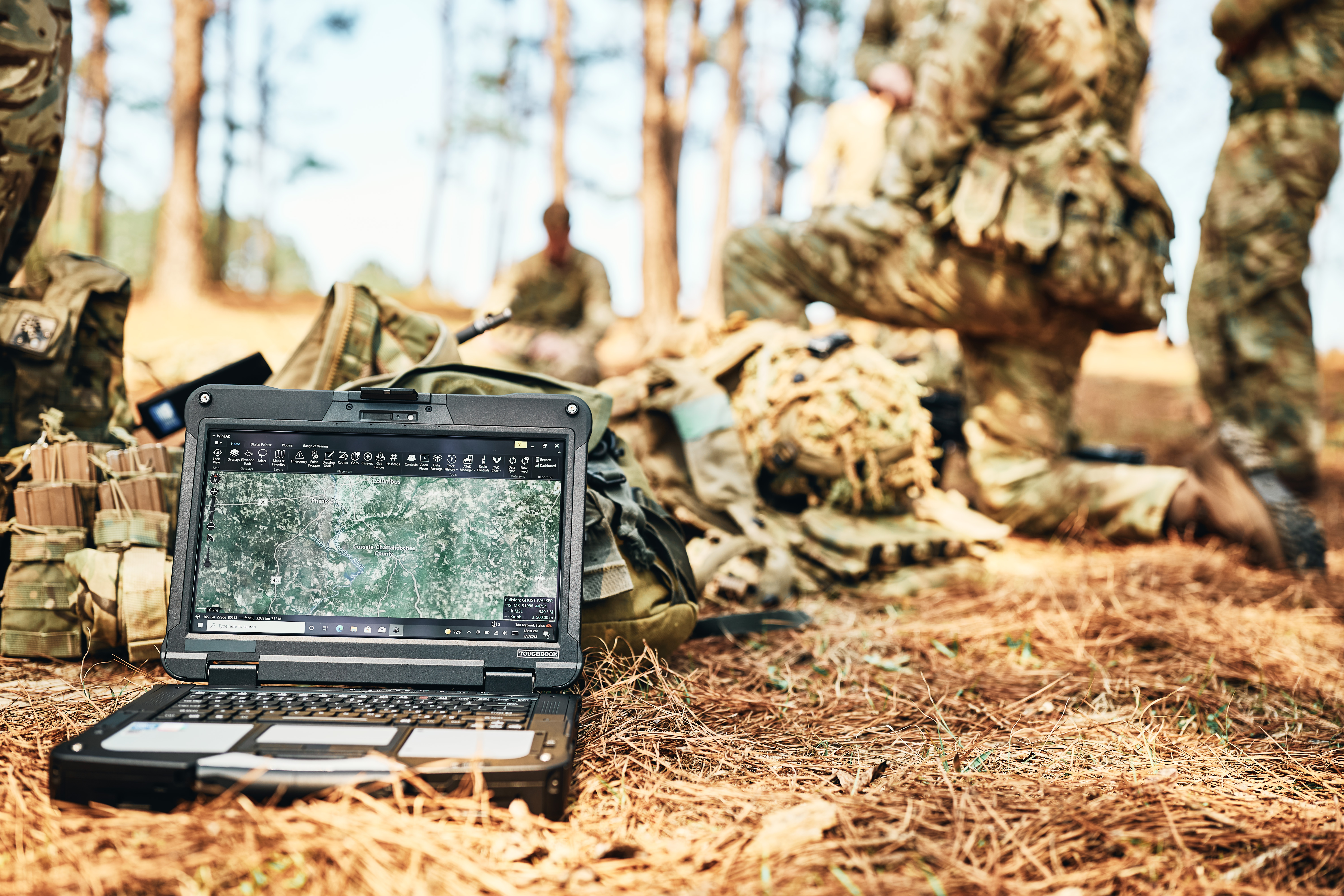 Tough Enough for Military Needs
Panasonic TOUGHBOOK solutions are purpose-built with military needs in mind. Our laptops, 2-in-1 computers and handhelds undergo rigorous MIL-SPEC testing to make sure they can withstand rough handling, extreme weather, vibrations, sand, mud, and more in the field. These tests ensure Panasonic TOUGHBOOK computers provide the performance and reliability you need to perform jobs with greater efficiency and increased uptime, security, and connectivity.
Our rugged tablets enable crews to perform flight management tasks more easily and efficiently. With immediate access to operating manuals, flight documentation, and navigation charts, agencies have eliminated the need for replaced paper reference materials. Panasonic TOUGHBOOK technology also provides a direct wireless link to the U.S. military's computer-aided dispatch center, GPS routing data, call location, patient records, and HAZMAT information for fire and rescue squads on bases.
On the ground, in the air, or at sea, daylight-readable touch screens, dust-resistant keyboards, device durability and long life cycle support have made rugged laptops and tablets an important part of the complex flight line maintenance toolkits used by the U.S. Air Force and Navy.
Backed by a Team of Experts
When purchasing new military tech, your job isn't done when you have the tech in hand. With what comes next, it's helpful to have a trusted technology partner to aid you with:
Warranty support and repairs
Asset tagging and management
Data capture (serial numbers, IP and MAC addresses)
Storage and device management
Engineering projects (e.g., image development, custom BIOS)
Customizability, Versatility and Reliability
The TOUGHBOOK G2 detachable laptop is an especially versatile tool for the U.S. military. A fully rugged, detachable, 2-in-1 device, the TOUGHBOOK G2 is perfect for tight spaces on an aircraft to remote airfields. And it is just as easily attached back to the keyboard for use as a laptop.