Introducing the productivity+ Ecosystem and the TOUGHBOOK A3 Tablet: A Versatile Solution to Support Business and Organizations' Adoption of Android for Frontline Workers
June 24, 2020
Today more than ever work is changing. Workforces are needing to adapt to mobile, and virtual technology is now in use nearly everywhere. As we face the immediate challenges and opportunities, as well as consider the long-term impact of technology on the mobile workforce, preparing for the future has never been more critical.
Panasonic has always been committed to supporting mobile workers as their job requirements and technology needs change. A key technology shift we see many customers making is the move to Android OS-based mobile solutions throughout their organizations. Organizations are shifting to Android-based mobile devices, for several reasons:
The end of life for Windows CE

Versatility and adaptability the Android operating system offers

Generational shifts and a savvier, technology focused workforce.
As with any adoption of new technology, the move to Android can be a heavy lift for internal IT organizations. Recognizing this, Panasonic is excited to share productivity+ – bringing together our suite of Android support solutions for mobile workers. Our productivity+ offers a comprehensive solution to support all aspects of the Android mobile OS platform and seamlessly integrate enterprise systems with Android deployments, featuring:
Comprehensive Android Software Support

Extensive Partner Ecosystem

Professional Services

Rugged Mobile Tablets and Handheld Devices
More and more, we are seeing customers across multiple industries and environments adopting Android-based rugged mobile devices for their frontline workers. For IT managers, productivity+ enables simplified deployment allowing them to configure hundreds of device settings across multiple deployments simultaneously, as well as manage devices and operating system upgrades with ease. And our Rapid Application Development platform can adapt legacy applications of existing systems for Android devices.
At Panasonic, starting nine years ago with the introduction of our first Android-based mobile device, we began supporting customers using Android. Since then, we have evolved and grown our set of Android devices, Android software support and Professional Services. Being on the cutting edge of technology is critical and supporting our customers' early adoption of new mobile technology – hardware and software – is what sets Panasonic apart from its competitors.
We've listened closely to our customers' needs as they transition to the deployment of Android mobile solutions in their business. The transition is not simply about buying replacement devices or installing software, rather, enterprises need comprehensive support to make the move happen. With productivity+, enterprises can clearly see Panasonic fully supports them throughout their transition to Android. Our goal is to be a trusted partner and provide the devices, services and support customers need to keep frontline workers productive when using TOUGHBOOK mobile solutions.
Growing the TOUGHBOOK Family of Rugged Mobile Devices for Android
To further support and provide the rugged mobile solutions customers want, we are launching a new rugged, Android-based tablet – the TOUGHBOOK A3.
Meet the TOUGHBOOK A3!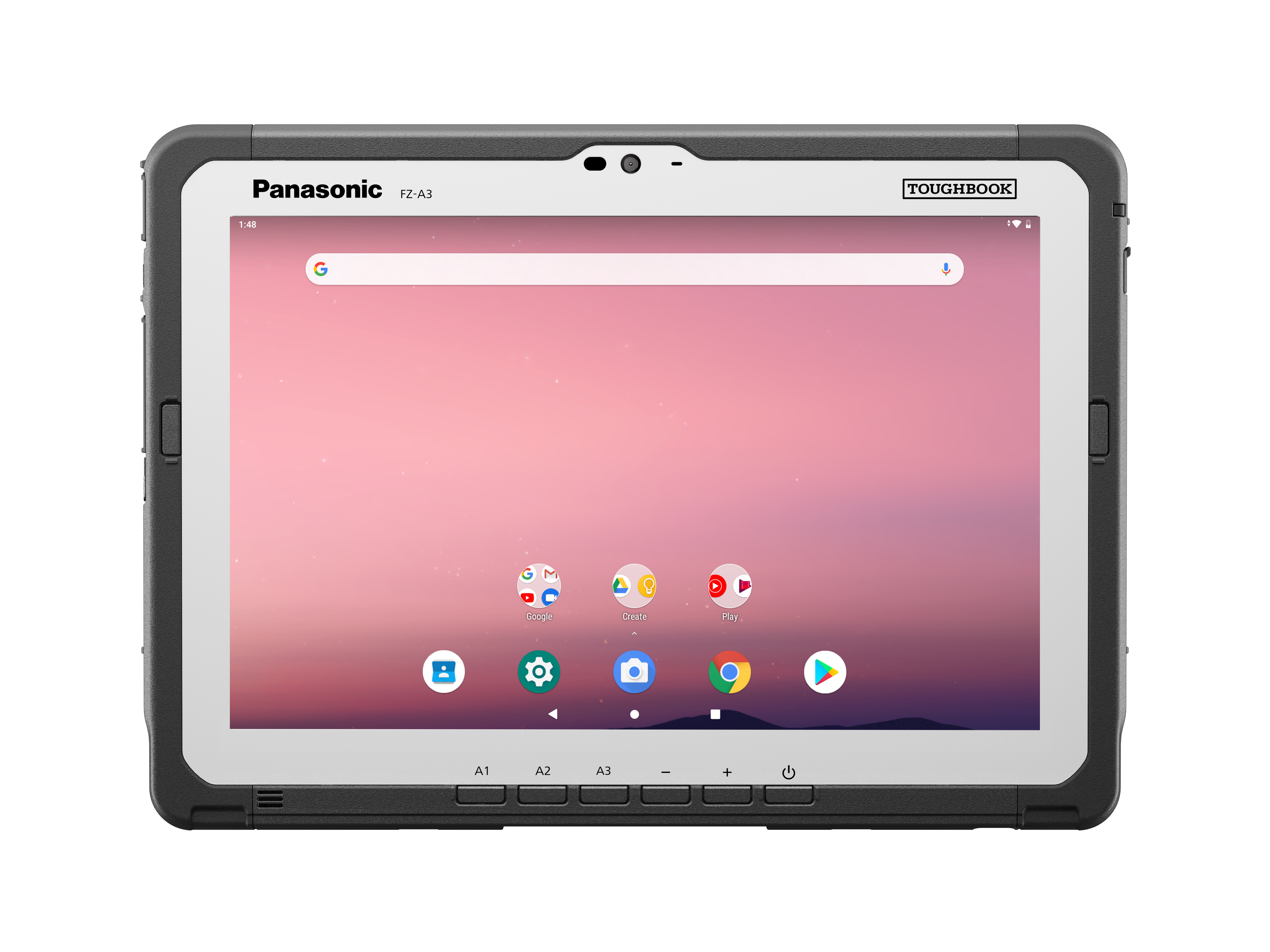 The new TOUGHBOOK A3 is designed to address the evolving needs of today's diverse mobile work environments. Built using the Panasonic process of listening to the "voice of the customer" we responded to the input from customers to make it rugged, easy to operate and with a long battery life.
Customers in transportation, logistics and supply chain operations are moving to use rugged, Android-based tablets on forklifts, terminal tractors and for use throughout their operations. With the TOUGHBOOK A3's integrated barcode scanner, ergonomically designed buttons for ease of use and dual and hot swappable batteries, it is a tool fit for any environment.
Firefighter and EMS frontline workers are additional groups where we see the TOUGHBOOK A3 changing the way work gets done – we have seen significant growth and adoption of Android applications in use by these first responders. With its larger, sunlight-viewable and glove-touch sensitive screen, the TOUGHBOOK A3 is designed to support the mission critical situations that first responders are called to.
In addition to these attributes, the TOUGHBOOK A3 rugged tablet builds on the TOUGHBOOK reputation for durability and reliability with features tailored to the needs of the mobile workforce, including:
10.1-inch outdoor viewable screen

6-foot drop rating to plywood and 5-foot to concrete

Dual user replaceable hot swappable batteries

5 user defined programmable buttons

FirstNet Ready Certified
The TOUGHBOOK A3 joins the family of Panasonic TOUGHBOOK rugged mobile devices for Android that currently include:
To learn more about productivity+ and the TOUGHBOOK A3, visit our website or watch our video.