Redefining Mobile Work – A Series: Introducing New Technology for Police Officers
December 18, 2019
As a public safety professional, your laptop or tablet isn't just another device. It's a hub for many of the mission-critical tools you need to access on the fly. When you open up your laptop on the job, it needs to function flawlessly with easy access to advanced tools because lives are at stake. We take that seriously at Panasonic, and that's why we designed new technology for police officers – the TOUGHBOOK 55 – which we designed with the voice of our public safety customers in mind.
Public safety is a unique field that requires many different tools that perform best when they work together. The TOUGHBOOK 55's customizable design allows you to swap out different tools and upgrade certain features so that if one day you need more storage, and the next you need a fingerprint reader, you can make those changes in a matter of seconds without buying a whole new laptop. Customization combined with other features like powerful performance, long battery life and backwards compatibility make the TOUGHBOOK 55 an incredibly valuable and trusted tool for all your public safety needs.
Customizable Design for Ever-Evolving Needs on the Job
Traditionally when you buy a laptop you're stuck with those specifications for years. But work changes every day. Technology evolves with the blink of an eye. After a few years, public safety agencies re-evaluate their technology needs and sometimes end up investing thousands to upgrade and implement new technology for their police officers. The TOUGHBOOK 55 puts that costly purchasing cycle to rest with its customizable design that allows you to evolve your laptop as your needs change over time.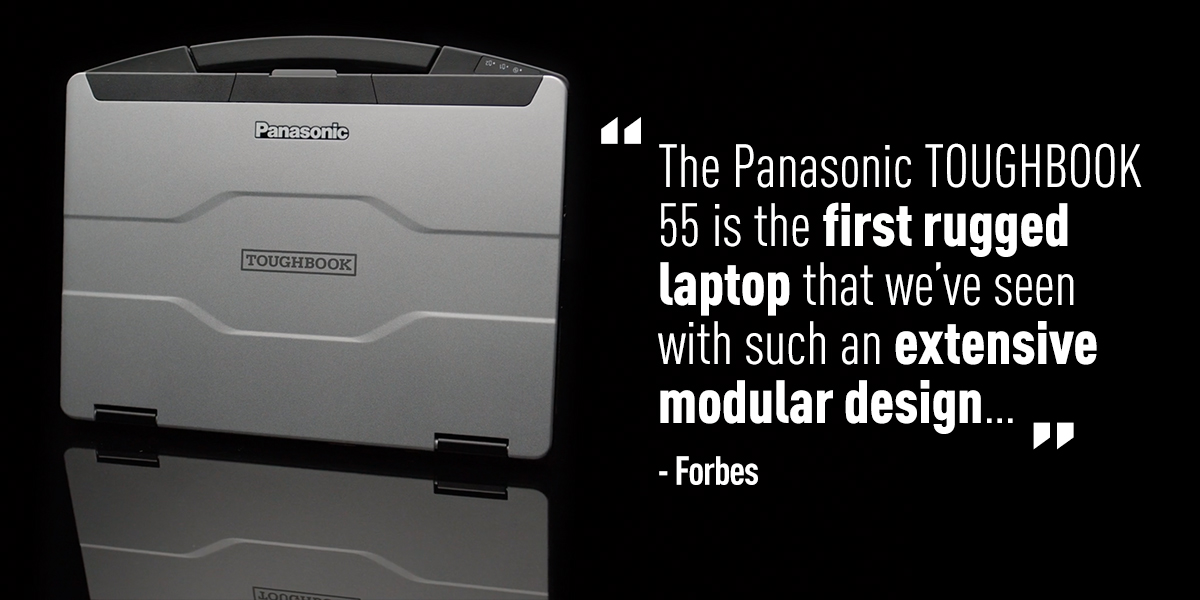 With expansion packs also known as xPAKs, you can switch up the TOUGHBOOK 55's functionality based on your needs on any given day – or minute for that matter. As a law enforcement officer, you never know what any given day may bring, but with eight xPAK options and user-upgradable features, you can be ready to take on any task within minutes. Expansion pack offerings that are particularly useful for public safety professionals include I/O ports for efficient data transfer, fingerprint readers for added security, dedicated graphics for enhanced performance and a second storage drive.
The TOUGHBOOK 55 also supports real-time access to Criminal Justice Information Services (CJIS) databases and other crucial information.
Extended Battery Life Spanning Multiple Shifts – and Days
A common frustration our public safety customers shared with us is the short battery life of many devices. Oftentimes law enforcement officers share laptops, handing off the same computer to the next officer taking over, and depending on the day, you may not have enough time to charge it up before the next shift starts.
The TOUGHBOOK 55 has the longest battery life of any TOUGHBOOK device to date. The laptop comes standard with 20 hours of battery life, which in itself is enough to power through multiple shifts. But our new technology for police officers goes one step further and offers an optional second battery that doubles the battery life to up to 40 hours. With the ability to hot swap, you don't need to waste a minute to gain a full charge – because in your job, seconds matter.
High Performance for High-Stakes Situations
When lives are on the line, every bit of added performance functionality can make a huge difference. While serving the community, you spend hours on the road, which means your hands and eyes are occupied. To minimize officer distraction, voice-powered technology is trending upward. However, on a highway there could be up to 80 decibels of sound.
The TOUGHBOOK 55's 92 decibel speakers can easily drown out background road noise. The built-in microphones also filter out background noises to aid in more accurate voice functionality. The sensitive microphones ensure you can talk and keep your eyes on the road. Speech recognition software allows you to keep your eyes on your environment, ultimately improving situational awareness.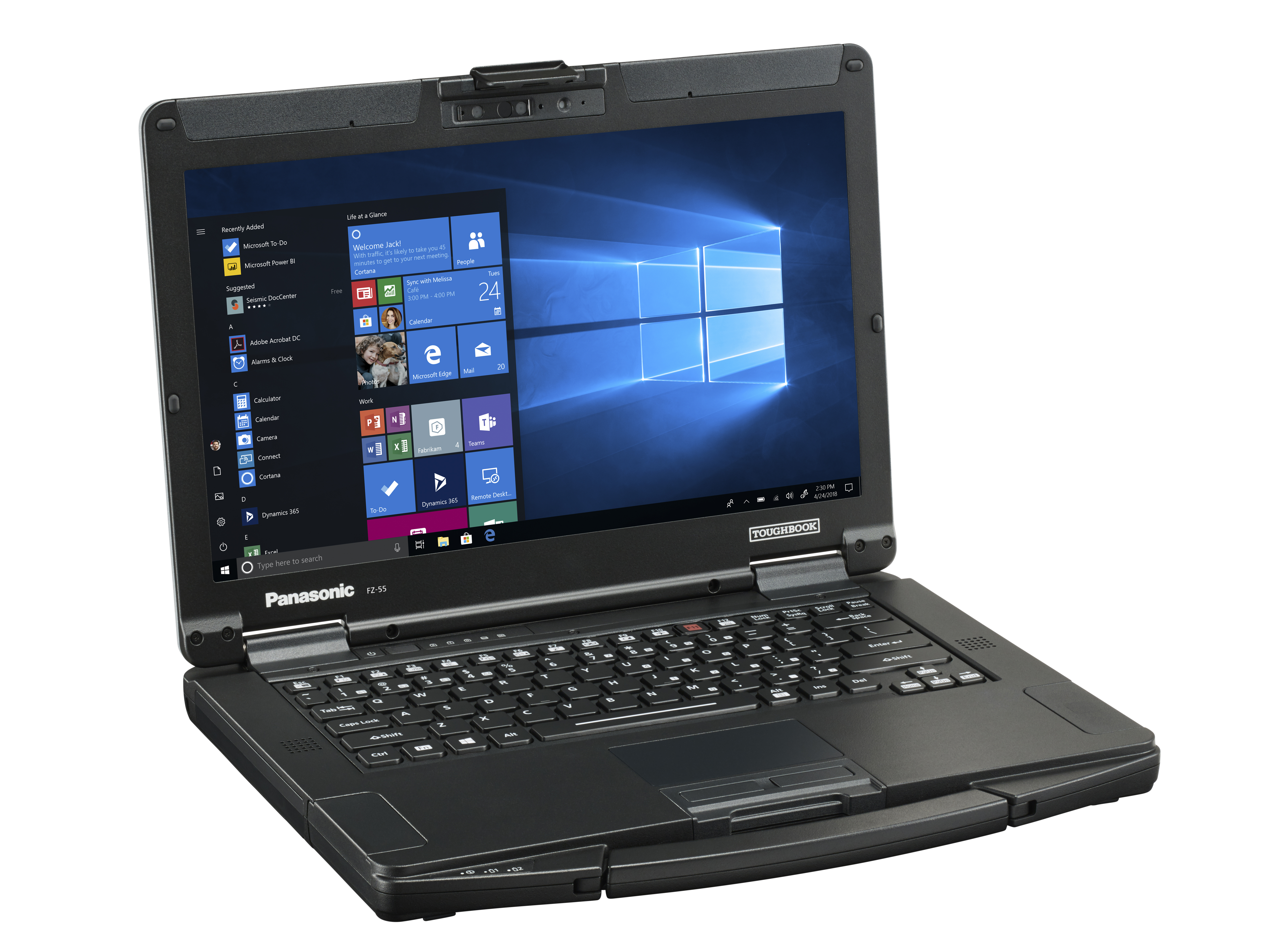 the TOUGHBOOK 55 (FZ-55 EM7511) is certified and approved for use on FirstNet – the nationwide, wireless communications platform dedicated to America's first responders and public safety community. The FirstNet Ready™ TOUGHBOOK 55 supports the FirstNet Band 14 spectrum and gives public safety subscribers access to the dedicated, physically separate FirstNet network core.
Backwards Compatibility to Protect Your Investments
A common pain point when upgrading technology is making sure it's fully compatible with the other technology you use. For public safety professionals, that means devices such as video recording cameras, breathalyzers, evidence capture systems and much more. The last thing public safety agencies want to worry about is having to buy a long list of brand new accessories along with brand new devices.
The TOUGHBOOK 55 offers backwards compatibility to previous docks, cradles and adapters. While you are putting new laptops in your officers' hands, this protects your investment in both the accessories and devices, and ultimately saves you the hassle of constant device upgrades and associated costs.
Public safety agencies make important investments in high quality devices – because everyone's safety depends on it. That's why we made sure that the TOUGHBOOK 55 carefully addresses major pain points and ensures that your critical work is done as efficiently and safely as possible.
For specifications and purchasing information about the TOUGHBOOK 55, visit our website.