3 Ways Speech Recognition Technology Optimizes Incident Reporting for Police
May 03, 2019
In our years working with law enforcement, we've seen firsthand how technology can positively change the way work gets done. One example is how officers write incident reports – by no means a glamorous part of law enforcement, but a necessary one. Writing incident reports that document anything from arrests to accidents occurring on duty is often very time-consuming. In fact, the incident reporting process can impact productivity and efficiency so much so that over 50% of an average shift can be spent on paperwork alone, according to results from a national survey of police departments.
A single incident report can take up to two hours to process, resulting in officers spending significant time behind a desk at the station instead of face-to-face with the community.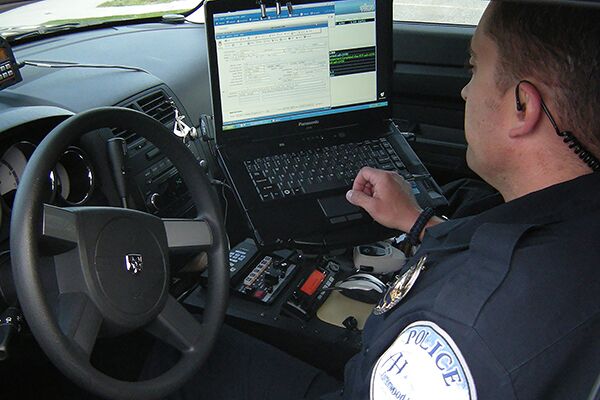 Advancements in voice-powered technology are solving this challenge by giving officers an easier, more streamlined approach to incident reporting. To minimize the hours spent on administrative tasks, speech recognition technology paired with rugged laptops or 2-in-1 devices offers a solution for law enforcement to dictate reports up to three times faster than typing by hand. That frees up more time to focus on what matters most — keeping the community safe.
Improve Documentation Processes
Current documentation processes are tedious and hinder officer productivity, often requiring agencies to schedule additional hours for support staff and decrease the amount of time officers spend in the community.
With the implementation of voice recognition technology, report accuracy and completeness increases because reports are created in real time, not saved for the end of shift. The technology enables officers to create incident reports three times faster than typing with up to 99% accuracy, even in noisy environments. This added efficiency ultimately reduces reliance on countless support staff or transcription services, saving agencies time and money.
When speech recognition technology, such as Nuance's Dragon Law Enforcement solution, is installed on a TOUGHBOOK 33, for example, the users' profile customizations are stored in the cloud, making them easily accessible when officers switch between patrol vehicles. Because one device may be shared by multiple users, agencies are also able to make profiles for individual officers to ensure that all officers are able to use the tool while on the job. Nuance's speech recognition software can recognize hundreds of thousands of words, with a total catalog of more than 300,000 words. It is also customized with a unique law enforcement vocabulary, with the ability to recognize common terms like car make and model, and it can be further customized to add agency-specific terms. The system is also built with an intelligent speech recognition engine, with the ability to recognize accents or discern speech from background noise.
Being able to document an incident directly after it has happened also allows officers to more accurately recall information from the scene instead of waiting until the end of a shift when recall may be more challenging.
Increase Officer Safety and Situational Awareness
Officers who type up incident reports while still in their patrol vehicles are open to potential risk, as their focus is more on the computer screen and less on their surroundings. While writing reports in the field can be beneficial with the incident fresh in mind, it can create a situation where officers are less situationally aware.
Speech recognition technology offers an alternative to the traditional manual incident reporting process. With speech recognition software, officers can use a microphone connected to a TOUGHBOOK device to input data. Offering seamless dictation capabilities, speech technology can recognize an officer's specific voice and convert it to text to develop an incident report. It also frees officers to keep their eyes on their surroundings, bolstering situational awareness.
Spend More Time with the Community
Reports can take hours to complete, straining both individual officers and the organization as a whole. Speech recognition technology and dictation capabilities reduce those hours to minutes, while increasing the accuracy and detail of the reports. When equipped with these technologies, officers can be more present in the community and more productive in their patrol cars.
Technology advancements and better access to speech recognition software is helping to simplify the jobs of law enforcement officials around the country, with more agencies eager to deploy the technology and reap its many benefits. As the technology becomes more common for all public safety officials, voice-powered solutions like speech recognition will truly transform the future of work for police — creating safer communities and safer work conditions for officers.
Interested in voice recognition technology to streamline your department's incident reporting process? Contact our experts at mobilityinsidesales@us.panasonic.com.