The Longest Yard
December 16, 2019
With increasing e-commerce orders, last-mile logistics has become a means for shippers to satisfy customers by delivering products quickly and on time. In the following article, Supply Chain Management Review explains the importance of the longest yard concept.
Forget the last mile. One of today's biggest fulfillment challenges is the short trip from the delivery truck to one of dozens – or hundreds – of possible delivery spots in a building, a plant, a hospital or a campus. The shortest distance could be the longest yard of a delivery.
For years, logistics professionals have referred to the final leg of the order delivery process as the last mile. It has always been important, but as the volume of e-commerce orders rises exponentially, last-mile logistics has taken on increased significance for delivery service providers, and is now front and center in the minds of shippers. After all, today's savvy online shoppers will no longer tolerate slow and inconvenient delivery offerings. Instead, they expect the timely and inexpensive delivery of their orders to their doorsteps. Fulfillment is a competitive differentiator among the best companies.
The good news is that last-mile capabilities have come a long way and continue to improve. Customers now have a variety of delivery options from which to choose, including traditional, next-day and even same-day delivery in urban areas, and they can track their packages from the sellers' point-of-fulfillment all the way to their shipping address.
The bad news: While the ship-to address may mark the end of the last mile, in many instances, it is the beginning of the last yard. That's the distance from the shipping address to a pickup location at that address, which is often a blind spot in the delivery process. As a result, many customers end up going to a pick-up point after seeing that their package was "delivered" on their carrier's tracking service, only to discover that their package is nowhere to be found. This type of incident underscores the fact that failures in the last yard may negate the goodwill created by shippers and delivery service providers that deliver shipments considered "on-time and complete" as per customer requirements. The last yard could be the longest yard.
Given the importance of that final hand-off to the customers, some supply chain managers and delivery service providers are looking beyond the last mile and reinventing themselves to tackle the last yard of package delivery that has thus far been an afterthought. In this article, we will explore the last yard concept and shed light on some of the themes that emerged from a survey conducted by the Penn State Center for Supply Chain Research and the "23rd 2019 3PL Study".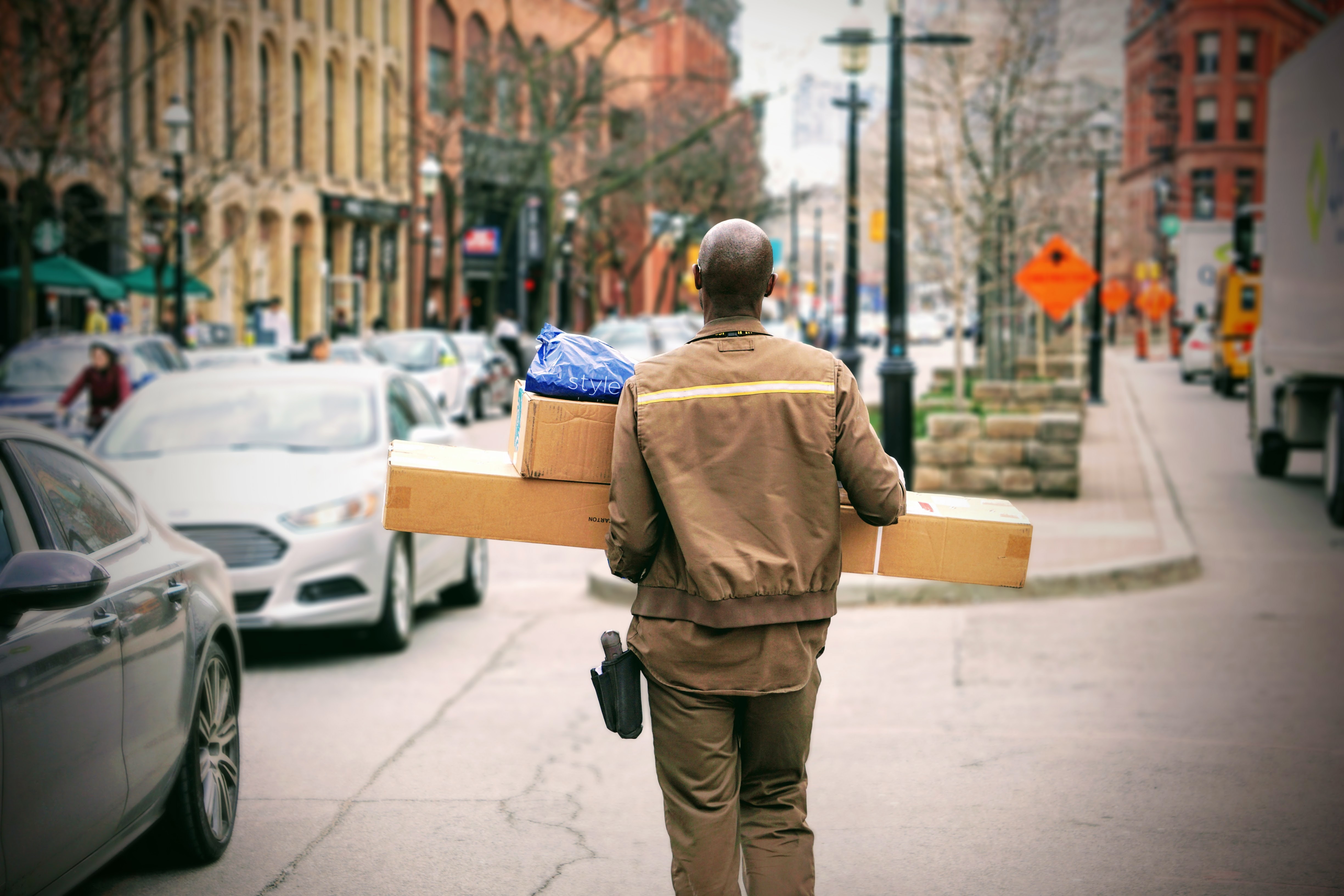 The last yard conundrum
As should be clear by now, the last yard refers to what happens to a shipment once it arrives at the designated address or location of the recipient but then needs to be routed to a specific customer's point of use. Given the increase in e-commerce sales, with millions, if not billions, of packages out for delivery directly to the individuals who ordered them, it's no surprise that the challenges of last-mile and last-yard logistics has come to the attention of publications as diverse as Mailing Systems Technology, Digital Trends, Business Insider, Multi-Housing News and Forbes.
Examples of last yard delivery processes can be found in both consumer and business situations. In the B2B world, for instance, the movement of repair parts from a manufacturer's receiving dock to a maintenance location, or the movement of a shipment of magazines from the point-of-receipt to point-of-sale locations within the store are just two examples. In the B2C world, e-commerce orders are often received in the central mailroom or lobby of an apartment building or a university campus and then distributed to tenants or students, while hotels are often tasked with getting deliveries for guests from the front desk to a room, or to a guest at another location on the property.
Last-yard logistics operations can be chaotic, particularly for companies with hundreds of employees spread across dozens of departments or a university with tens of thousands of faculty and students. The e-commerce boom has led to significant increases in packages of various sizes and contents, everything from small jewelry to large furniture to perishable goods, while the volume of mail pieces is declining in the digital age. But countering these trends, most mailrooms, package centers and their staff were geared to handle regular mail and not packages, rendering them unprepared to handle online order deliveries at the scope and scale we see today.
Most existing last-yard package delivery systems take the form of a mail and package center where deliveries are received and stored until recipients can pick them up. They operate using a hand-delivery model that is characterized by staff intervention in the receiving process after a delivery person drops off shipments to make packages available for recipients to pick up. The typical processes are manually cumbersome, extremely time consuming, prone to error and look something like the following.
Receiving. The central mailroom or receiving staff sign for a collective stack of packages when a delivery driver shows up. Problems of liability arise when there is just one signature acknowledgment. What happens, for instance, if the staff signs for 50 packages but there are only 48 in the stack?
Log in. Pen-and-paper methods or traditional computer spreadsheets are commonly in use. The staff must write down 20-plus-digit tracking numbers into a form, or scan each package if a scanner is used, then write or type the recipient's name and the sender's information to create a new package record. We all know that manual entry is prone to error.
Pick-up notification. Many mail centers notify recipients by manually emailing them or putting slips of paper in individual mailboxes. Both are cumbersome, and the latter often results in packages sitting in storage longer than they should because mailboxes are not visited as frequently today as they were in the non-digital days.
Hand delivery. After receiving a pick-up notification, recipients go to the pick-up point during operating hours and wait in line to be serviced. Often, staff has to hunt for a package that frequently spent days in the mailroom waiting to be retrieved. The staff physically hands the package to the recipient who must provide identification or sign a form for package release.
These manual processes are being overrun by the growth in package volume, resulting in overwhelmed staff, storage capacity constraints and the poor performance of mail centers. And, end users/customers, in turn, suffer due to increased occurrences of delayed, damaged, misplaced and lost deliveries (72%, 66%, 52%, and 49% shippers agree, respectively, according to our survey).
Emerging themes of last-yard logistics ambitions
Our survey results also show that both shippers and 3PL respondents (72% and 71%, respectively) share the view that capable, last-yard logistics services are required in today's business environment. However, just over half of the shipper respondents (53%) feel that they effectively manage last-yard logistics needs, while only a third (34%) of 3PL respondents agree that their customers effectively manage these needs.
As last-yard logistics awareness shifts from the hindsight to the foresight, shippers, delivery service providers and stakeholders like property management companies and mail and package centers are beginning to explore different solutions to the last-yard logistics challenges. According to our findings, the latest developments in last-yard logistics undertaken by the logistics tri-parties are encapsulated in these emerging themes:
Shippers' hand-delivery services are extended
Proactive shippers are taking the last-yard matters into their own hands to ensure that their customers' needs are truly met. One such example in the business-to-business space is Frito-Lay, well known for its "direct store delivery" (DSD) system, the largest in North America with more than 15,000 sales routes. Frito-Lay's DSD system allows it to deliver chips directly to retail stores to ensure freshness, and accurately fill service levels. But there's more. Frito-Lay also takes responsibility for other activities such as stocking and refreshing store shelves, allowing the snack food leader to maintain full control over the last mile and the last yard.
A notable example in business-to-consumer markets is in-home/in-fridge delivery, an innovative approach being piloted in online grocery markets by leading retailers like Walmart's direct-to-refrigerator service and Amazon's Keyless in-home delivery service for Prime members. Walmart and Amazon delivery personnel are granted one-time access into a customer's home, allowing them to place goods in the required spot, including the refrigerator for perishable products, instead of leaving them at the doorstep. This last-yard service not only thwarts porch pirates but also ensures proper storage of temperature-sensitive goods.
3PLs' hand delivery services go value-added
Shippers and 3PLs (51% and 49%, respectively) both feel that 3PLs have visibility into customers' needs for last-yard logistics services, suggesting that 3PLs may have enough knowledge of their customers' business to contribute helpful ideas for improvement. The top five value-added last-yard logistics services for which shippers would consider involving 3PLs are: instant proof of delivery (53%); rework and returns management (47%); labeling and tagging (44%); kitting and pre-assembly (42%); and packaging services (42%).
Some 3PLs have recognized and acted on these opportunities. For instance, one specialist in fashion apparel is providing in-store logistics services to meet the fast-changing needs of fashion merchandisers. Upon arriving at a retail store, the 3PL now takes in-store last-yard responsibilities as well, including inspection, specialized kitting services, price ticketing, labeling, security tagging and garments on hangers (GOH). Another 3PL in the automotive industry is offering sequencing and Kanban delivery services. Going beyond dropping off shipments at a manufacturing plant's loading dock, the 3PL now covers the movement of raw materials, components and subassemblies in the plant, either to or from stocking points or directly to assembly stations on the manufacturing line.
Automating internal hand delivery services
Leading couriers have been utilizing specialized track-and-trace applications for the past few years. However, only recently has the potential of these applications been explored to tackle lastyard logistics to the front desk, mailroom and loading dock.
In general, an automated mail and package center combines software featuring integrated reporting and tracking into email notifications with mobile-friendly tools to offer added flexibility for mail and package center employees. Our survey results suggest that the technologies and tools most likely to be adopted are:
Point-of-delivery digital signature collection, consistent with the overall priority on automating as much of the last yard process as possible to eliminate the need for paperwork to document and validate completion of key steps in the process.
SaaS-based package receiving and tracking software solutions, reflecting preferences of Cloud-based solutions over hosted and on-premise counterparts.
Handheld or portable scanning devices, suggesting the importance of capturing data related to incoming and outgoing shipments to facilitate downstream or upstream activities related to last-yard services.
Smartphones and tablets running Android or iOS, signifying emphasis on real-time information regarding lastyard shipments that would allow users to more effectively manage and make needed changes to last-yard services.
At a basic level, these systems offer functionalities of automated receiving/log in, internal tracking and pick up notification. In upgraded versions, additional capabilities further enable activities such as routing priorities, digital pictures of damaged or suspicious packages and internal barcode labeling.
Among the key advantages of automated systems are improved productivity, faster and paperless process, reduced human error, enhanced process visibility and accountability and shareable digital data that enable quicker communication at all stages of shipment and delivery. Nevertheless, we concede that applying automation technology to the mailroom or a central receiving point solves some but not all problems associated with last-yard logistics. Automated processes still require staff to receive, store and retrieve packages, thus they are still limited to working hours and the capacity of the staff for package retrieval and delivery.
Last-yard logistics go self-serve
The "do-it-yourself' alternative is increasingly receiving consideration as an effective solution for last-yard logistics. A self-serve model is characterized by the elimination of staff intervention in the process when carriers/3PLs drop off shipments and packages that are accessed and retrieved by the recipients. Various forms of this new model are emerging, such as parcel lockers, which range from traditional lockers and basic electronic lockers to smart electronic lockers, and package closets that range from software-driven to smart systems.
When we investigated this new development, we detected three categories of self-serve approaches, namely carrier-designated, shipper-designated and agnostic systems.
Carrier-designated systems. This category includes parcel lockers that only accept carriers' own deliveries. Examples include USPS gopost, UPS Access Point and DHL's residence-based locker system called the Packstation.
Shipper-designated systems. Parcel lockers in this category only accept shippers' own deliveries. The notable example is Amazon Locker.
Agnostic systems. This category includes smart parcel locker systems, and more affordable alternatives of digital closets or open rooms systems. They are provided by a new, emerging sector of 3PL providers specializing in these systems that, unlike the other two above, accept every package from all carriers. Examples of specialized 3PL providers are Luxer One, Cleveron, Package Concierge and Parcel Pending. Notably, Amazon is also taking interest in this model, launching Amazon Hubs that are installed in apartment buildings across the United States. Unlike Amazon Locker, Amazon Hubs also accept non-Amazon deliveries.
The most popular of these concepts among our respondents were carrier-designated auto self-serve lockers (preferred by 41% of shippers), followed by retailer designation of automatic self-serve lockers (33%) and on-site digitally locked package rooms/closets (26%).
As the name suggests, this model places the conduct of last-yard activities in the hands of the recipients themselves, who can now access and retrieve their packages at their convenience. Delivery service providers also benefit as this model can eliminate failed deliveries and package thefts, thus increasing customer satisfaction. However, this model, particularly smart parcel locker systems, requires an investment in equipment, technology and space, may not be easily scalable, and could become a bottleneck as package volume increases.
Closing the gap
The fact that the last yard is increasingly becoming a pain point in the delivery process serves as an important reminder that the true measure of supply chain success will ultimately be determined by how well incoming shipments or packages make the final leg of a delivery to the recipients who are expecting the product.
With that in mind, new and innovative approaches to last yard logistics are being explored by 3PLs, shippers and internal delivery providers. We expect to see more automation of last-yard logistics process and an extension of value-added services that help to improve efficiency, visibility and accuracy of the traditional hand-delivery model. Also emerging is the new self-serve model that comes in three broad varieties, including carrier-designated, shipper-designated and agnostic systems.
Looking forward, we also anticipate a significant need for technologies to enhance and improve the execution of lastyard services, notably solutions that automate hand-delivery processes and technologies that can boost the functionality of self-serve systems. Similarly, self-serve alternatives are expected to gain more traction. And, while carrier-designated systems are the most popular at the moment, agnostic systems are something to watch as they get smarter and allow greater flexibility for any carrier and shipper users.
Last, but not least, while emerging technologies show great promise and no doubt will play important roles, collaboration among shippers, 3PLs and internal delivery units will be key to perfecting the last yard. After all, optimal last-yard delivery solutions will be those that are driven by the common goal of creating end-customer values, while fostering business objectives of all parties involved. The time to start conversation with your partners is now. CQSU
About our research
This article represents a combination of the research findings of the Penn State Center for Supply Chain Research™ and the "23rd 2019 Annual 3PL Study," of which Penn State is a sponsor. This annual study, sponsored also by Infosys, Penske and Korn Ferry, investigates leading trends in logistics and the supply chain, in which researchers explore some of the basic concepts and details pertaining to last-yard logistics as an area of potential collaboration between shippers and 3PLs. Key results presented therein are based on a global survey of 651 respondents, 46% of whom are self-identified as shippers, 38% as 3PLs (which may include 4PLs, less-than-truckload carriers, parcel carriers, etc.), and 16% as other supply chain participants. Shipper and 3PL respondent organizations represent a wide range of sales revenue expectations for 2018. Complimentary copies of the Annual 3PL Study are available for download at 3plstudy.com. In addition to the survey results, the authors reviewed articles on last yard logistics in Mailing Systems Technology, Digital Trends, Business Insider, Multi-Housing News, the iOFFICE blog and Forbes.
This article was written by Steve Tracey, Jim Owens, C Langley and Kusumal Ruamsook from Supply Chain Management Review and was legally licensed through the NewsCred publisher network. Please direct all licensing questions to legal@newscred.com.