Mobile Technology is Changing the Construction Experience
January 18, 2023
A recent DEWALT survey highlighted the most significant challenges facing U.S. contractors: inflation (57%), lack of skilled personnel and staff shortage (51%), and working long hours (37%). These factors, as well as shifting workforce demographics, make productivity more difficult to achieve. The number of construction workers between the ages of 25 and 54 decreased by 8% over the past 10 years, while the share of older workers leaving the industry soared, according to Associated Builders and Contractors. With fewer workers entering the industry, current workers must have access to advanced resources like robust computing solutions to make their work more efficient.
Rugged Laptops in Construction Boosts Productivity Gains
In the past, the construction industry has been slow to adopt new technologies. But accelerating more adaptable kinds of technology in construction aids workforce challenges and helps attract new talent. Companies can do this by implementing modern solutions using 4G LTE or 5G connectivity and devices that are versatile. For instance, investing in a 2-in-1 computer with the ability to detach the screen from the keyboard base gives workers a device that can function as a tablet and go into the field more easily. 
Mobile technology pre-loaded with inventory management software and interfaced with connected power tools are incredibly advantageous. With mobile inventory tracking enabled through cloud computing, project managers can quickly pinpoint the location of tools and materials which helps diminish lost items as a source of concern. Consequently, this eliminates unnecessary re-work and diminishes downtime; two issues that plague many workers in the field.
Rugged laptops like the TOUGHBOOK 40 provides durability in the most challenging environments — including rain or snow — and handle travel between jobsites. Plus, extended battery life helps extend its usage so workers can get more done without recharging.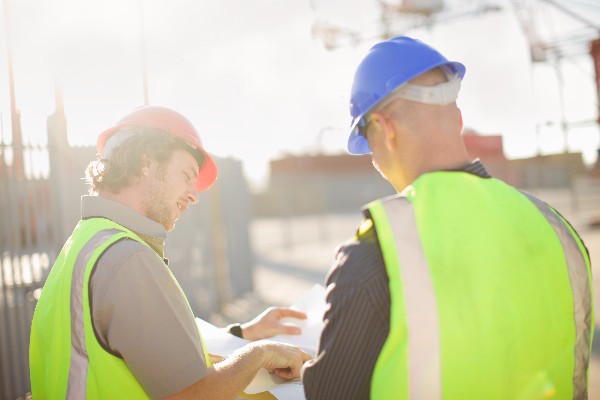 Improving the Employee Experience with Mobile Technology
Each worksite generates petabytes of data in progress reports, condition changes, and machine inspections. With the option of remote connectivity, employees spend less time traveling to the office just to transfer or access data. Workers can share information with their teams in real time straight from the jobsite.
Construction engineering company Batson-Cook Construction discovered its workforce was challenged in several ways with unreliable consumer-grade devices. The long days on site in the southern heat and bright sunlight took a toll on their computers. The company replaced its consumer-grade devices with the rugged TOUGHBOOK 33.
After embracing mobile technology, workdays and processes became more streamlined and ultimately alleviated worker frustration with things like battery life and screen glare. The TOUGHBOOK 33 checks off many boxes that contribute to a significant reduction in downtime and an increase in efficiency.
Help with Layout and Planning
Another important step in the construction process is determining the layout of the building. If a building base is even just a fraction of an inch off, a domino effect begins leading to incorrect steps to keep everything upright. The TOUGHBOOK 33 integrates a critical software app, AutoCAD®, which creates data points that tell workers exactly where to place the layout through a robotic data collector. 
Showing point discrepancies on consumer-grade laptops proved to be difficult for supervisors to visualize the changes that needed to be made in the field. With the TOUGHBOOK 33's detachable screen, workers bring this data into the field and show these discrepancies in real-time. 
"Before using the TOUGHBOOK 33, our staff was visibly frustrated by how easily their devices were breaking, as well as the involuntary downtime they experienced. Now, our employees can shift their focus from dealing with faulty tech to doing the task at hand efficiently and effectively," added Jason Waddell, director of construction technology at Batson-Cook.
Mobile Technology Builds the Construction Industry's Future
U.S. construction spending grew steadily in 2021, reaching almost $1.6 trillion. It is forecasted to reach more than $2 trillion in 2025, according to Statista. A growing construction industry, along with increasing shortages for new labor, means it's critical to increase productivity and improve worker experiences. The everyday devices used are a key pillar in accommodating industry challenges. Rugged computing solutions allow workers to approach their workday more productively and end their day with relief, not frustration.
Learn how Panasonic Connect can support your construction operations.