6 Ways Rugged Mobile Devices Can Help in Military Missions
July 13, 2022
Rugged mobile devices from Panasonic Connect can help improve everything from logistical operations to tactical communications for the U.S military. Our handhelds, tablets, 2-in-1 computers and laptops are designed and purpose-built for mission-critical work, extreme environments and non-stop, heavy use mobile devices by our military.
Here are six ways rugged mobile devices and solutions can help in military applications:
1. Improving Efficiency and Productivity in Supply Chain and Logistical Operations
When moving cargo and personnel in the face of challenging terrain and hostiles, you need military-grade technology capable of providing real-time visibility into supply inventories, equipment, and troops. And the complexity of military logistics demands the ability to access, capture, and share data and real-time updates between supply or maintenance systems and depots with field supply chain operations serving troops on the ground.
We designed the TOUGHBOOK N1 Tactical solution to help improve supply chain operations, team visibility in the field and situational awareness. It has a powerful octa-core processor for fast data processing and a user-replaceable battery that is warm-swappable and capable of 12 hours of continuous data use.
For military supply chains and logistics operations, the cost of downtime and technology failure can be a matter of life and death. Downtime due to a dead battery or other device failures is not an option. That's why our rugged mobile devices are built to meet and exceed military standard MIL-STD-810G specs and tested to the MIL-STD specs and beyond for durability, endurance, and strength.
2. Streamlining Flight-Line Maintenance
One of the biggest pain points when it comes to military flight-line maintenance is legacy paper manuals. Mechanics have historically had to wrestle with searching and reviewing paper manuals to find specifications and instructions in order to keep aircraft maintained.
Today, at several military installations, the deployment and use of TOUGHBOOK rugged mobile computers facilitate a paperless maintenance environment, from the hangar to the tarmac. Our mobile devices give maintenance technicians fast, easy access to digitized manuals and aircraft systems data.
Instead of searching through cumbersome binders, mechanics can find what they need by searching and quickly scrolling through a few screens or with a couple of keyboard taps. The speed of processing and the ease of use of a TOUGHBOOK enhances technician productivity. With their sunlight-readable and glove use touchscreens, TOUGHBOOK tablets and laptops are being used in maintenance operations around the world — on land and at sea in some of the harshest environments.
The TOUGHBOOK G2 Windows tablet is particularly well-suited for flight-line maintenance. The evolution of two top-selling TOUGHBOOK products, it has a 2-in-1 design and offers backward compatibility to most docks so you can upgrade your technology without replacing existing mounting hardware. The tablet can also be configured with an infrared webcam and biometric user authentication. An available thermal imaging xPAK enables technicians to record, process, and document temperature measurements. This can help identify faulty parts prior to failure. 
The TOUGHBOOK 40 laptop is also suitable for flight-line maintenance. Featuring eight modular areas, it offers unmatched flexibility in demanding and unpredictable environments. Additionally, its state-of-the-art design results in optimal thermal performance. 
3. Enhancing Command and Control Operations
Today's military operations require mobile technology that is versatile enough to be used to control multiple types of complex systems or vehicles, from engine monitoring to managing in-flight systems. Command and control of Avionics Management Systems (AMS), for example, requires computing technology capable of managing communications, navigation, and mission subsystems.
The TOUGHBOOK G2 tablet has high computing performance and wireless connectivity in a compact form-factor to enable the deployment of portable command-and-control posts that provide real-time access to mission-critical AMS data.
When a compact, rugged Android mobile device is required, the TOUGHBOOK N1 Tactical gives military professionals a long-lasting, reliable mission-critical communications tool. Because it is built to resist damage from severe vibrations and seven-foot drops, as well as keep working even after being immersed in a downpour, it works reliably under unrelenting battlefield and weather conditions.
Our mobile devices are a proven command and control solution component for military Unmanned Aircraft Vehicle (UAV) ground stations, flight control terminals, and autonomous vehicle controllers. Rugged mobile devices, such as the TOUGHBOOK A3 Android tablet and the TOUGHBOOK G2 Windows tablet, can be configured with additional security features, including optional touch fingerprint reader, optional insertable SmartCard CAC readers, or optional contactless SmartCard CAC reader, making them a preferred option for federal government mobile workers.
4. Boosting Situational Awareness
One of the biggest threats to a soldier's life and limb is injury from unidentified threats. Mobile solutions — such as unit cameras, body cameras, and evidence-capturing cameras connected to TOUGHBOOK handhelds — can help capture a wealth of information about the surrounding environment and identify potential threats. These state-of-the-art handheld devices help provide situational data in the most challenging and dangerous operational environments. The TOUGHBOOK N1 Tactical runs on Android, enabling development in an open environment with thousands of readily available applications and solutions.
5. Facilitating Mission Planning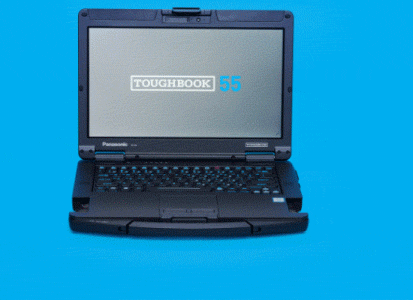 Lack of hardware integration has historically made it difficult to connect and update mission plans between the briefing room and the battlefield. The TOUGHBOOK 55 rugged notebook delivers mobile technology with the integration capabilities and support required for even the most complex missions. It's certified to the latest MIL-STD-810H requirements. 
The TOUGHBOOK 55 combines reliability with adaptability. It enables users to view high-def maps and images in the field, maintains connectivity during operations, and supports data security with removable solid-state drives (SSD). An optional bombproof enclosure is available for combat operations.
Our laptops are a proven solution for mission planning and are used extensively by flight crews, special forces, and troops on the ground. The Panasonic TOUGHBOOK family of mobile devices can be used for a wide range of mission requirements.
6. Increasing Connectivity for Tactical Communications
Communication hardware that cannot stand the rigors of the battlefield puts soldiers at risk. Military personnel need tools and equipment that survive the field and keep them connected and in control. That's where TOUGHBOOK mobile device connectivity technology excels. A dedicated team of wireless engineers at Panasonic Connect custom selects and tests the antenna modules in the device to make sure the connectivity performance meets or exceeds the leading carriers' wireless network requirements.
Panasonic TOUGHBOOK technology facilitates uninterrupted communications that are vital for relaying surveillance and mission orders. We and our partners provide full mobile tactical communications solutions, including rugged mobile devices, specialized software and middleware, and some of the most effective custom wireless solutions available.
When it comes to rugged devices, Panasonic TOUGHBOOK solutions deliver the performance, security, and reliability that front-line troops rely on to survive in harsh, and often hostile, environments. TOUGHBOOK mobile devices go beyond the standard safety testing to achieve Hazardous Locations Class 1 Div 2, certification of select devices, TPM 2.0 and are TAA-compliant, approved for government deployment.
Learn more about the TOUGHBOOK family of mobile devices to see how no matter the challenge, Panasonic Connect devices ensure you have the technology you need on the battlefield to support your missions.