5 Reasons to Use Rugged Mobile Devices in the Oil and Gas Industry
July 27, 2022
Performance and Usability Are Keys to ROI
2022 has been a volatile year for oil prices, with the war in Ukraine and global supply chain instability driving prices up. More recently, crude oil prices plunged again in July 2022 in the face of recession fears. The United States is also releasing roughly one million barrels per day into U.S. markets to keep gas prices down, further impacting markets. With prices fluctuating, oil and gas producers have been forced to think about reducing operational costs and improving productivity. One way in which companies in the oil and gas sector can increase efficiency is by investing in mobile IT infrastructure.
According to a white paper from Panasonic, investing in business process automation technology and developing mobile IT infrastructure increases the productivity of companies. And, based on a survey of oil and gas industry managers, the five leading criteria for choosing rugged mobile devices include long battery life, ease of data transfer, resilience to damage, total cost of ownership, and the ability to withstand temperature extremes.
1. Long Battery Life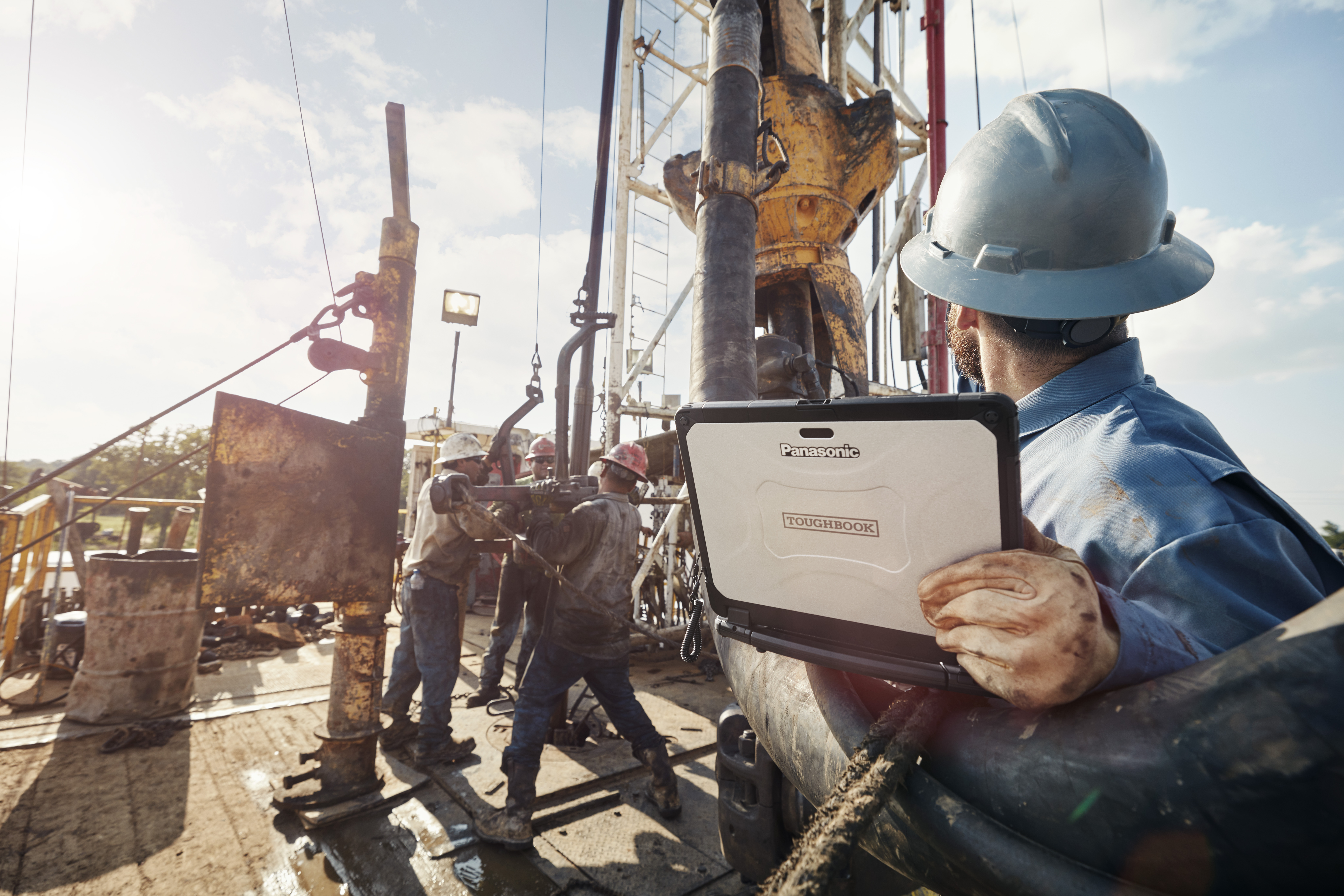 When it comes to performance, 25 percent of oil and gas industry IT managers surveyed cited long battery life as a main criterion for choosing a rugged mobile device. They want rugged devices that can run on their own power in remote field locations, such as upstream wells, midstream transport vehicles, and downstream refineries. This allows inspectors and other users in the field to work longer without having to stop to plug in a charger. Panasonic uses its own batteries in TOUGHBOOK devices, which means power supplies are tightly integrated with device design, production, and performance.
The TOUGHBOOK 55 rugged laptop, for example, can accommodate two batteries at the same time. According to PC Magazine, the TOUGHBOOK 55 ran for more than 16 hours in a rundown test with only the main battery installed. With both batteries installed, this versatile laptop can stay powered-on for up to 40 hours. That battery life also can be extended with hot-swappable spare batteries that can be used to keep the machine running indefinitely.
2. Ease of Data Transfer
Internet access, wireless connectivity and fast data transfer between remote locations and central offices is another priority when it comes to mobile technology for oil and gas companies. Users in the field need rugged devices that are designed to optimize connectivity with built-in WiFi, Bluetooth, optional 4G LTE, 5G, FirstNet and optional GPS.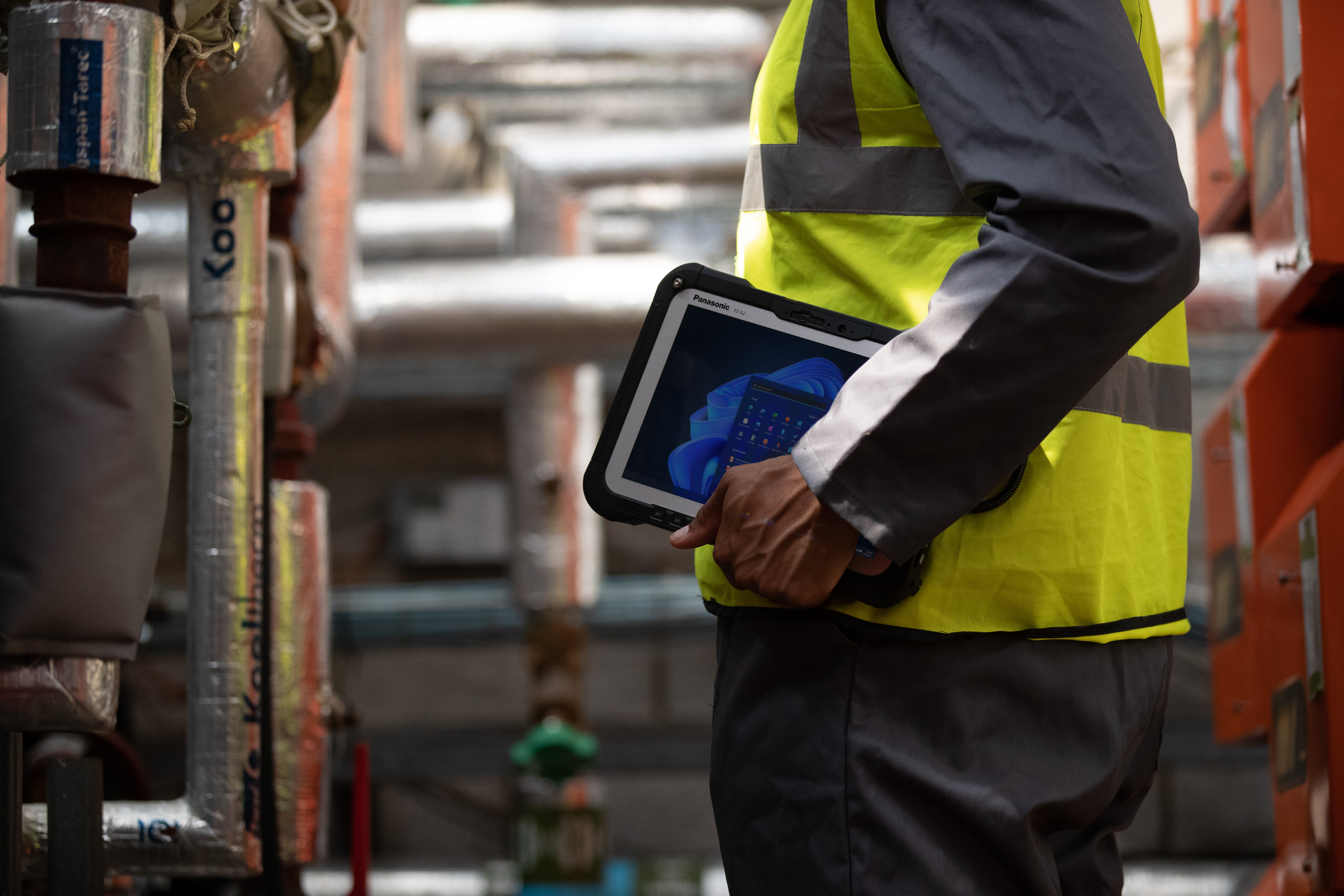 Thermal technology integrated with mobile devices also enables images to be captured, analyzed, and shared without having to take readings with a separate thermal scanner. For example, workers in the field for oil and gas companies can use thermal imaging for easier inspection of hidden electrical systems and components. Using the heat maps displayed on tablets configured with thermal cameras, technicians can see whether a system is running normally, or if it requires maintenance.
Panasonic's modular TOUGHBOOK G2 offers an optional FLIR thermal camera xPak. This expansion incorporates forward-looking infrared (FLIR) camera technology into a single device, eliminating the need for a separate thermal gun. That can save cost-conscious energy companies up to $9,000 for every technician in the field, plus the time it takes to enter readings. The G2 ultimately reduces capital costs while increasing field service productivity.
3. Resilience to Damage
Oil and gas jobs demand durable computing devices that have proven their toughness. Having worked closely with oil and gas organizations to understand their technology needs, we design our TOUGHBOOK computers to meet the demands of their everyday work. Each TOUGHBOOK goes through rigorous testing to ensure it can handle nearly anything you throw at it.
In a ZDNet article, Tiernan Ray concluded that the TOUGHBOOK 55 is perfect for those inspecting wells in remote field locations or utility workers climbing poles. "The TOUGHBOOK is an important tool for professionals in demanding situations," he noted. "It has the lion's share of the market for tough, abuse-resistant, Windows-based machines."
Furthermore, Panasonic gained UL 1604 certification for our rugged mobile devices, which allows for safe use in environments where flammable gases, vapors, and liquids exist. This capability makes TOUGHBOOK devices ideal for resisting damage that other solutions might incur in hazardous oil and gas environments.
4. Total Cost of Ownership
Another important efficiency metric for oil and gas companies is the total cost of ownership (TCO). Low failure rates, low operational expenses, and comprehensive warranty options combine to provide more value for oil and gas IT buyers.
In fact, the failure rate of Panasonic rugged mobile devices is significantly lower than that of consumer tablets. When Panasonic asked market intelligence firm IDC to conduct a study regarding the true cost of mobile device ownership in various industries, IDC discovered that companies replace standard notebooks on average every 3.9 years, while rugged notebooks get replaced every 4.8 years. Similarly, respondents to IDC's survey said they replaced standard tablets every 3.6 years, compared with 4.6 years for rugged tablets.
Repair costs drive up the total cost of ownership for consumer-grade mobile devices. The same IDC study revealed an average savings of $1,045 over the lifecycle of a rugged notebook and $2,745 over the service life of a rugged tablet.
5. Ability To Withstand Temperature Extremes
The fifth main criterion for oil and gas companies in choosing rugged mobile devices is the resistance to extreme temperatures. When it comes to withstanding extreme temperatures, oil and gas industry workers need rugged devices that meet or exceed the MIL-STD-810G developed by the U.S. Department of Defense. Test criteria reflect specific environmental conditions a device is likely to encounter during its service life. Rugged mobile devices also must be able to withstand drops, rain, vibration, high altitude, sand, and temperature shock.
Most processors run well at room temperature but can experience catastrophic failure when exposed to extreme hot or cold. Operational tests of the TOUGHBOOK family of products demonstrated durability even when the devices are exposed to extremely high or low temperatures for an extended amount of time.
Tight budgets require oil and gas companies to invest in mobile computing technology designed for long-lasting high performance. Learn more about how rugged mobile devices can benefit workers and IT management in the oil and gas sector.