8 Reasons Firefighters and EMTs Need Mobile Technology in the Field
September 23, 2020
Here's how modern-day firefighters and EMS workers are using mobile tools that help support a safer and more efficient working environment.
Extinguishing fires in burning buildings, rescuing people from raging flood waters, or extracting drivers from vehicles that were in accidents — these are just a few of the tasks that firefighters and EMTs are asked to perform on a daily basis. Often in the line of danger and laser-focused on preserving human life, these professionals once relied on a combination of training, experience, gut instinct, and 2-way radios out in the field. Without the right mobile tools, firefighters and EMTs can't stay in contact with others, get the most up-to-date information, or protect themselves while they serve the community.
Whether they're using rugged laptops to record a patient's vitals, receiving real-time emergency alerts on their smartphones, or using a CAD system to get to the emergency site fast, firefighters and EMTs have mobile solutions at their fingertips. These tools help eliminate guesswork, reduce error rates, and help professionals operate in a safe manner.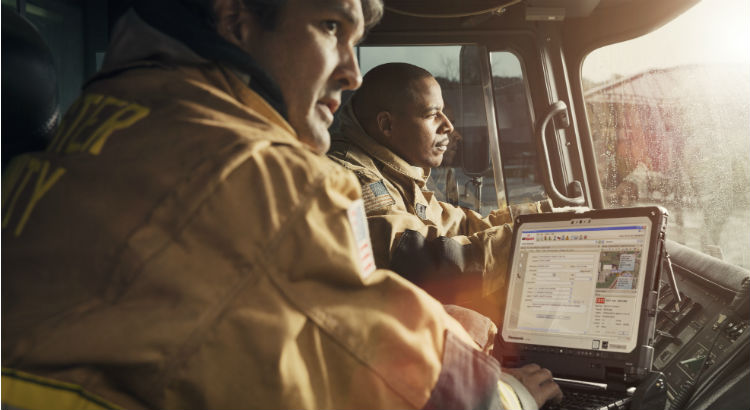 Technology that Responds to Public Safety Needs
Fire departments have come a long way since they had to broadcast audible, shrieking alarms across town to signal their need for a driver — something that happened anytime that a driver's 2-way radio or landline phone was out of earshot. Now, firefighters and EMTs receive dispatch alerts, accurate directions to the emergency, and other important information right on their mobile phones.
As mobile technology continues to evolve, phones, tablets, and laptops are becoming crucial tools for first responders. Instead of simply relying on radio communications, today's first responders have data, information, and communication tools at their fingertips.
Operating in very dynamic environments, first responders need real-time information that keeps them situationally aware of everything that's happening. Scene videos, CAD information, vehicle location, geographic information systems, and other critical information is readily available to responders, according to Firehouse.
"Having all those things at your fingertips provides a good view of situational awareness," Panasonic Director of Sales Kay Stewart told Firehouse. "That's all about keeping not only the first responders safe, but also the public around them. It just makes the scene safer."
Essential Tools for Essential Workers
Mobile Technology: An Essential Part of Firefighters' Gear highlights several common ways fire departments use mobile technology. Here are two real-life examples of how first responders are using mobile technology out in the field.
Rock Solid Support
The Hialeah, FL, Fire Department (HFD) uses TOUGHBOOK rugged mobile tablets to manage communication with fire and rescue teams (among other functions). With 20 fire and rescue units across eight stations, HFD makes 30,000 runs a year. Rugged mobile equipment supports responders on the job, while Panasonic's ProServices range of warranty programs ensure you're covered in .
Purpose-built for firefighters, TOUGHBOOK mobile devices include enlarged buttons that are easy for gloved firefighters to use and red "call for help" buttons that are positioned at the top of the device and surrounded by a raised bezel.
"What makes the difference for us is knowing that when our devices do experience issues, Panasonic is there to get us up and running quickly and responsively," says Lt. Urbano Menendez. "The service is professional and rock-solid. Even when things go wrong, they go right."
Engineered for Reliability
The Houston Fire Department (HFD) invested in TOUGHBOOK tablets when implementing its Emergency TeleHealth and Navigation (ETHAN) program, which links medical patients and emergency physicians, addresses low-acuity calls in the 9-1-1 community and helps appropriately allocate ambulance resources.
To operate efficiently, ETHAN needs reliable videoconferencing and connections to real-time medical data. First responders rely on their rugged computers and tablets to work from anywhere—including rural and remote areas. TOUGHBOOK devices provide a broad range of connectivity options—4G LTE, Wi-Fi, and GPS—and are built with internal components specifically engineered for increased reliability and outreach.
"ETHAN was really the first of its kind in the world," said HFD's Dr. Michael Gonzalez. "Panasonic deployed a team of experts as well as other industries and partners that we were able to use to design a truly elegant solution, and something that was revolutionary."
Devices that Deliver
In fire stations, emergency rooms, and ambulances nationwide, people rely on technology to help them assess, record, and navigate both emergency and non-emergency scenarios. Providing a high level of mobility, connectivity, security, and compatibility across systems, rugged computers are a durable choice for firefighters and EMTs who need devices that deliver.
Here are eight reasons why:
They can be quickly removed from a vehicle mount and taken out into the field to use cameras, Wi-Fi, and Bluetooth capabilities for easy data capture.
Firefighters also conduct routine maintenance and inspections (i.e., on fire extinguishers, in commercial buildings, or in homes). Armed with a rugged tablet, they can record and track the key information and then easily share that data with others in their department.
Built to withstand a high level of usage and abuse in high-stress scenarios, rugged laptops and tablets can provide important fire scene intelligence before firefighters even enter a structure.
Fire and rescue teams

rely on

water- and dust-resistant units

with outdoor-viewable touchscreens to access and capture information, communicate situational information, and complete inspections.
These teams also need mountable, shock- and vibration-resistant 2-in-1 laptop devices that are detachable for handheld use, or separate rugged mobile tablet or handheld units. More options means more flexibility to approach situations differently.
Rugged mobile tablets and laptops with integrated antennae modules and shock-mounted hard drives can withstand vibrations and shocks, and they help ensure that EMTs can reach dispatch and access and communicate critical patient data with medical facilities.
Spill-resistant devices

that can be regularly cleaned and sanitized with disinfectant wipes between patient visits are crucial for health and safety.
To do their jobs indoors and outdoors, first responders need daylight readable touchscreens. Chiefs managing scenes need to be able to look up accountability tag information or view placement of units via GPS at a working scene.
Technology Designed Specifically for Fire and Rescue Needs
As technology continues to advance and expand, purpose-built mobile devices will continue to be a popular choice for the world's firefighters and EMTs. For over the last two decades, Panasonic has been putting mobile computing devices and mobile data computers into these professionals' hands.
By listening to responders' wants and needs, Panasonic is continually developing robust products, solutions and services that meet those requirements. Offering a diverse portfolio of items including laptops, tablets, and handheld devices designed to help first responders operate safely and more efficiently, Panasonic also provides the advice and technical assistance that these professionals need to be able to do their jobs safely, productively, and efficiently.
Learn more about how we're helping firefighters change the way they work.