Why We Need a Technologically Advanced Squad Car
December 23, 2019
Police vehicles are more than just a way to get from point A to point B – they are teched-out command centers designed specifically for the work of an officer. By leveraging mobile computing capabilities via a rugged computer, router and antenna, officers are able to wirelessly connect to CAD systems, records management systems and other databases housing critical information. The tools within the car also keep costs in check for budget-driven law enforcement agencies. Here are three major reasons to install in-car solutions for officers on the road today.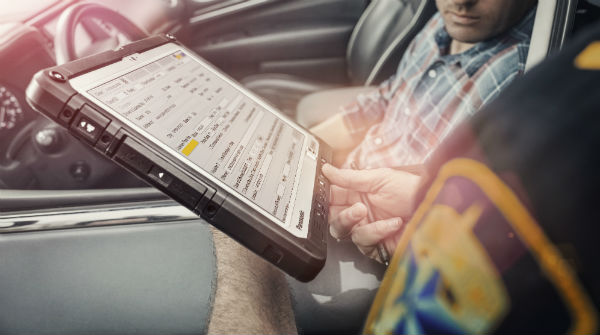 #1: Technology Needs are Changing
According to a 2016 survey by Police Magazine, 84% of law enforcement agencies reported using mobile field technology installed in squad cars or worn by officers, and this number is growing exponentially. To gain the maximum value from these tools, a cutting edge communications platform is necessary for guaranteed coverage. An ideal solution should offer fast transmission speeds and bandwidth, work in varying environments, be highly secure and offer seamless interoperability.
84% of law enforcement agencies reported using mobile field technology installed in squad cars or worn by officers. (Source: 2016 POLICE Magazine survey)
#2: It's Time to Embrace Mobile Applications
Connected technologies, including dash cams, body worn cameras, Automated License Plate Readers (ALPR), GPS, night vision and e-ticketing, play a tremendous role when it comes to officer safety and efficiency. Not only do they help make officers' jobs less dangerous and difficult, but they also reduce manual processes so more time can be spent in the community. On the precinct side, these technologies make officers more visible in the field and enhance coverage with fewer officers.
#3: Staying Connected
In the not-so-distant past, officers walked into a scene with little more than an address in their hands. Now, they're backed by real-time information in advance of their arrival thanks to the data powerhouses that are mobile computers.
When responding to a scene, mobile technologies allow officers to pull up suspect histories, mugshots, previous incidents at the address and other critical information imperative for situational awareness. When an officer leaves a police cruiser, mobile technologies grant them continuous access to information through tablets and smartphones to keep them safer. Once back in the vehicle, the technologies can sync documents, photos and videos to the agency's records management system.
Innovations that transform squad cars is invaluable for police officers and the community they serve. Law enforcement officials work hard to keep us safe. They deserve technology that works even harder to keep them productive and safe, too.
To learn more about Panasonic's suite of patrol car solutions built for law enforcement, download the whitepaper.