Tomorrow's Technology for Today's Warehouse
December 11, 2019
The warehouse of five years ago is probably still working fine—if you don't mind inefficiencies and the potential for misplaced items. With a heightened emphasis on productivity, mobility, speed, and accuracy, today's warehouses are increasingly considering upgrading their technology, with the goal of becoming a much more connected warehouse.
For many companies, connectivity is really the key to warehouse management of the future. It means real-time visibility in an always-on environment, allowing warehouse managers and workers to optimize processes and adapt to changes quickly.
Embracing Rugged Computers
The first step toward the connected warehouse has already occurred for many organizations. For example, many warehouses now use LTE and WiFi-enabled rugged mobile computers with barcode scanners and RFID capabilities, along with modern, mobile-enabled Warehouse Management Systems (WMS). Chosen carefully and implemented properly, these technologies can help warehouse teams reduce lead times, enhance communication, streamline operations, improve order accuracy and cycle time, and reduce costs.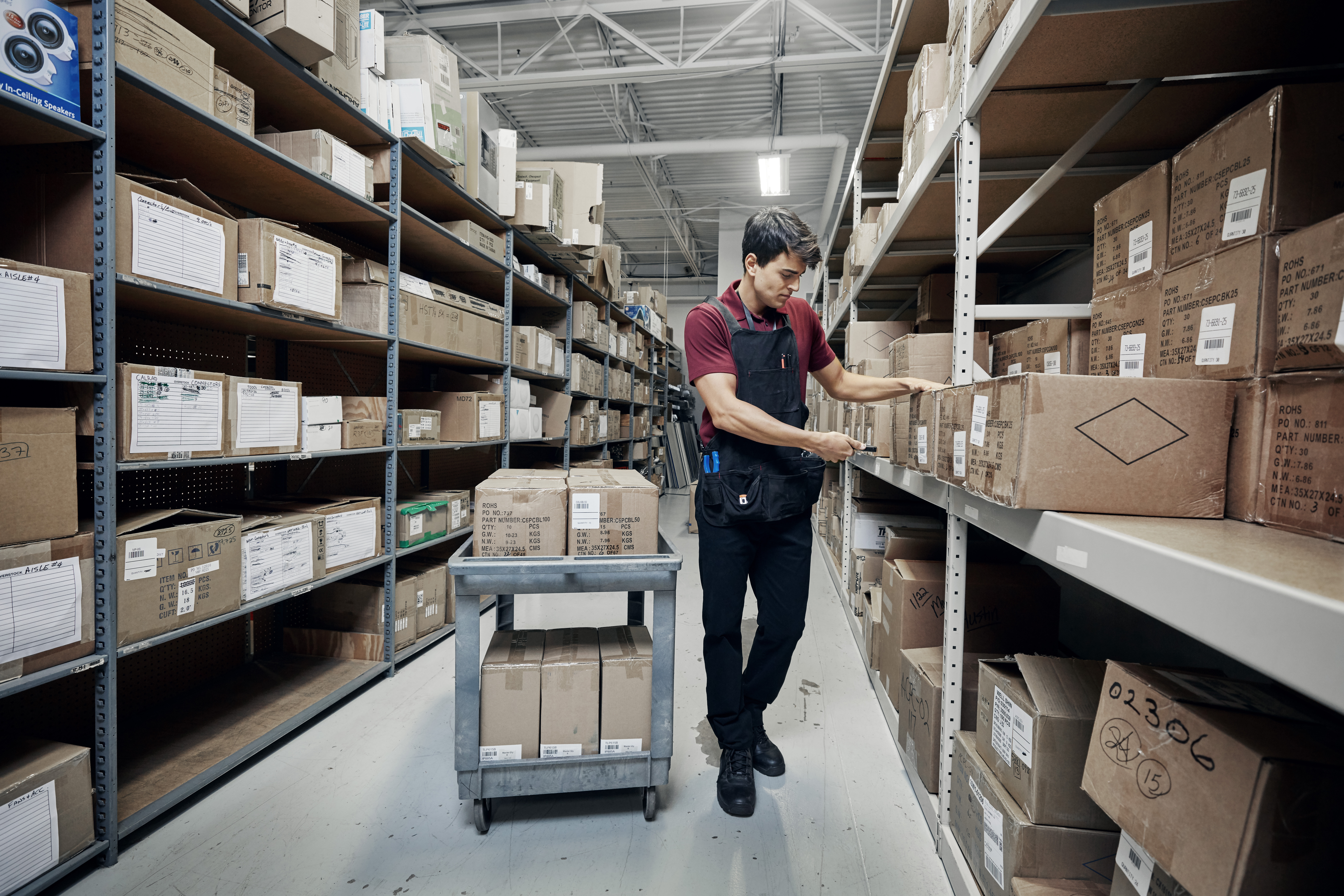 But today, even these technologies are becoming table stakes—sort of a baseline to build upon to create truly connected warehouses.
Internet of Things in the Warehouse
Readers and scanners are an important part of embracing the Internet of Things (IoT)—in this case, internet-connected sensors, tags or labels that provide important information, attached to every item, pallet, and other assets in the warehouse. These tags or sensors can include details such as where the item came from, the temperature of the item, or where warehouse personnel needs to pick up, move or ship items. They also include plenty of other useful information, such as weight, dimensions and temperature requirements. Most importantly, these sensors can enable warehouse personnel to track assets at all times, even in transit. That means that combined with a mobile-enabled WMS, warehouse managers armed with rugged mobile handheld computers can easily manage both expected and unexpected changes in stock levels, customer requests, and more, in real time.
Using Artificial Intelligence to Improve Efficiency
Next-generation warehouses also are increasingly incorporating more artificial intelligence and machine learning, which allows organizations to analyze past and current data to better predict how to do things in the future. To gain the real-time insight needed to make good decisions, an AI/machine learning solution needs data—from the sensors, RFID tags, mobile devices, and WMS.
For example, with information about how fast inventory is turning over, an AI/machine learning solution can better predict when it's time to order more, along with how many and what type to order. It can easily be automated so that when a specific product reaches a specified level, the system will automatically send a repurchase order. AI can also be used to better understand customer relationships and behavior, which can help sales operations and warehouse managers understand which products will be most popular and need to be priority shipped or which should be discontinued.
There are even robots based on AI technology that can pick goods in the warehouse, drive forklifts, and monitor inventory. And one day very soon, an AI-enabled drone will be part of the standard warehous operations.
Augmented Reality
Another major trend coming to warehouses is augmented reality. Using an augmented reality app on a mobile tablet along with the device's camera, for example, warehouse workers can quickly get the information they need on specific products, along with real-time inventory details.
One of the most valuable areas for augmented reality in the warehouse will be for item picking. Augmented reality apps running on rugged mobile tablets can analyze the warehouse layout and sync it with the items to be picked, and then show everything graphically. It then creates the most direct route for warehouse workers, allowing them to view the route as a virtual layer on the screen. After reaching the destination, the warehouse worker will see an arrow pointing to the specific item to be picked. Augmented reality apps also can be integrated with IoT, barcode, and RFID systems.
While nobody can predict the future, one thing is certain—keeping pace with technologies that improve visibility, efficiency, and customer service are the best way to ensure viability now, and in the future. Mobility is a critical part of that journey. Starting with the mobile computers used to scan barcodes, capture sensor data and analyze the latest results to make smart decisions on the spot. To make sure you're on the right track, engage an experienced vendor with field engineering experience who can help depoly the optimal rugged mobile computers and applications to move your legacy enterprise systems toward mobility and make sure your warehouse is positioned for the future.