Introducing the TOUGHBOOK 55: A Powerful, Versatile and Customizable Tool Engineered Specifically for the Mobile Worker
September 09, 2019
Today's workforce and the way we accomplish our work is evolving faster than ever before thanks to the rapid pace of digital innovation. That's why Panasonic is evolving with mobile workers who face new challenges every day. To make work better for them, we're introducing the TOUGHBOOK 55 with a customer-driven modular design that supports the "no-day-is-the-same" reality of mobile workers across all industries.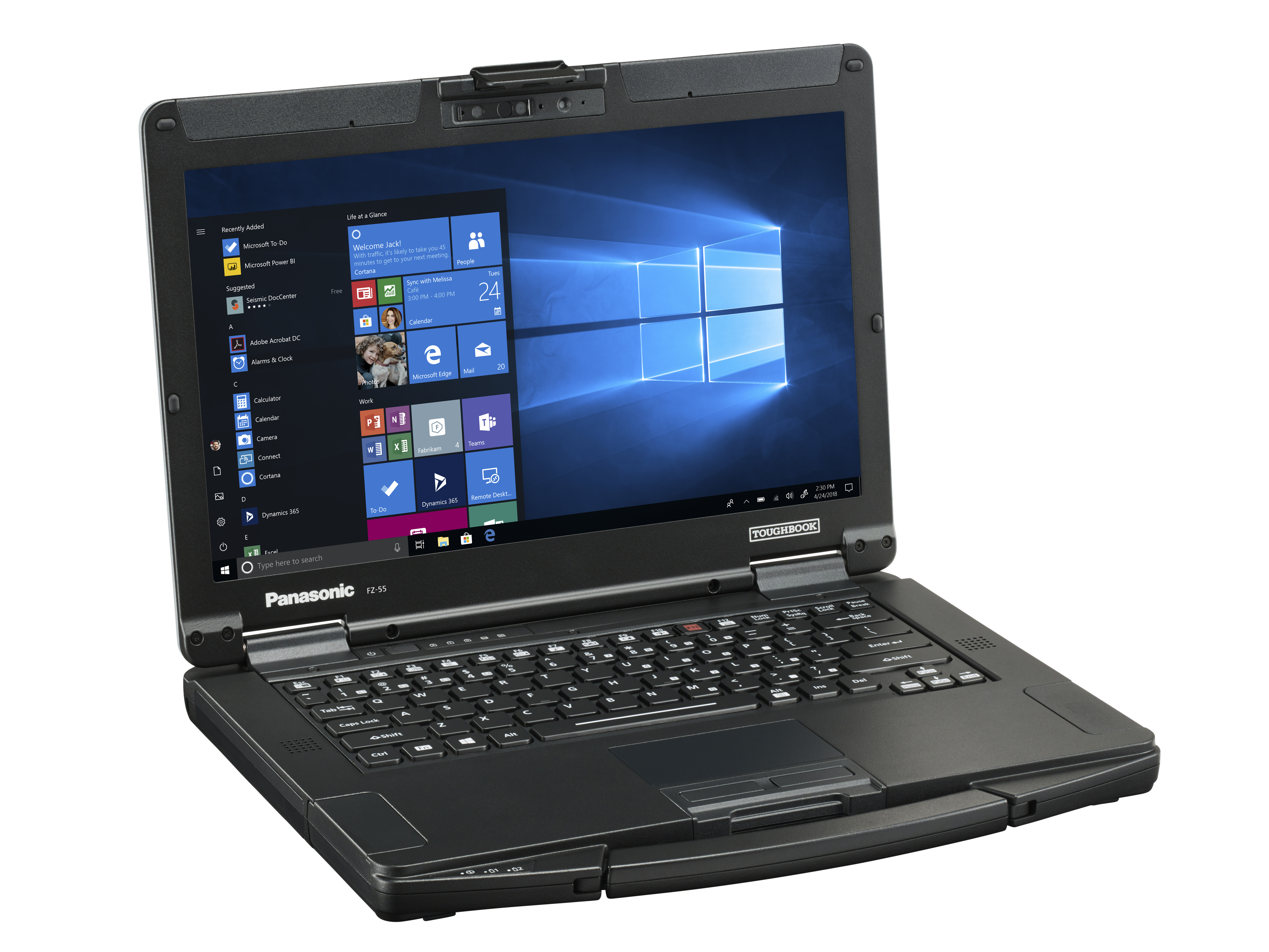 Through close relationships with our customers, we've engineered the TOUGHBOOK 55 to meet the challenging demands of their daily work.
1) Modular, Customizable and Configurable
As work environments evolve over time, many find that their technology no longer suits all of their ever-changing needs. That's why we designed the TOUGHBOOK 55 to have unrivaled customization with new expansion areas and multiple modular expansion pack accessories to meet those needs. With the ability to customize their laptop, customers can simplify ordering, shorten lead times, decrease downtime and evolve their model as needs change.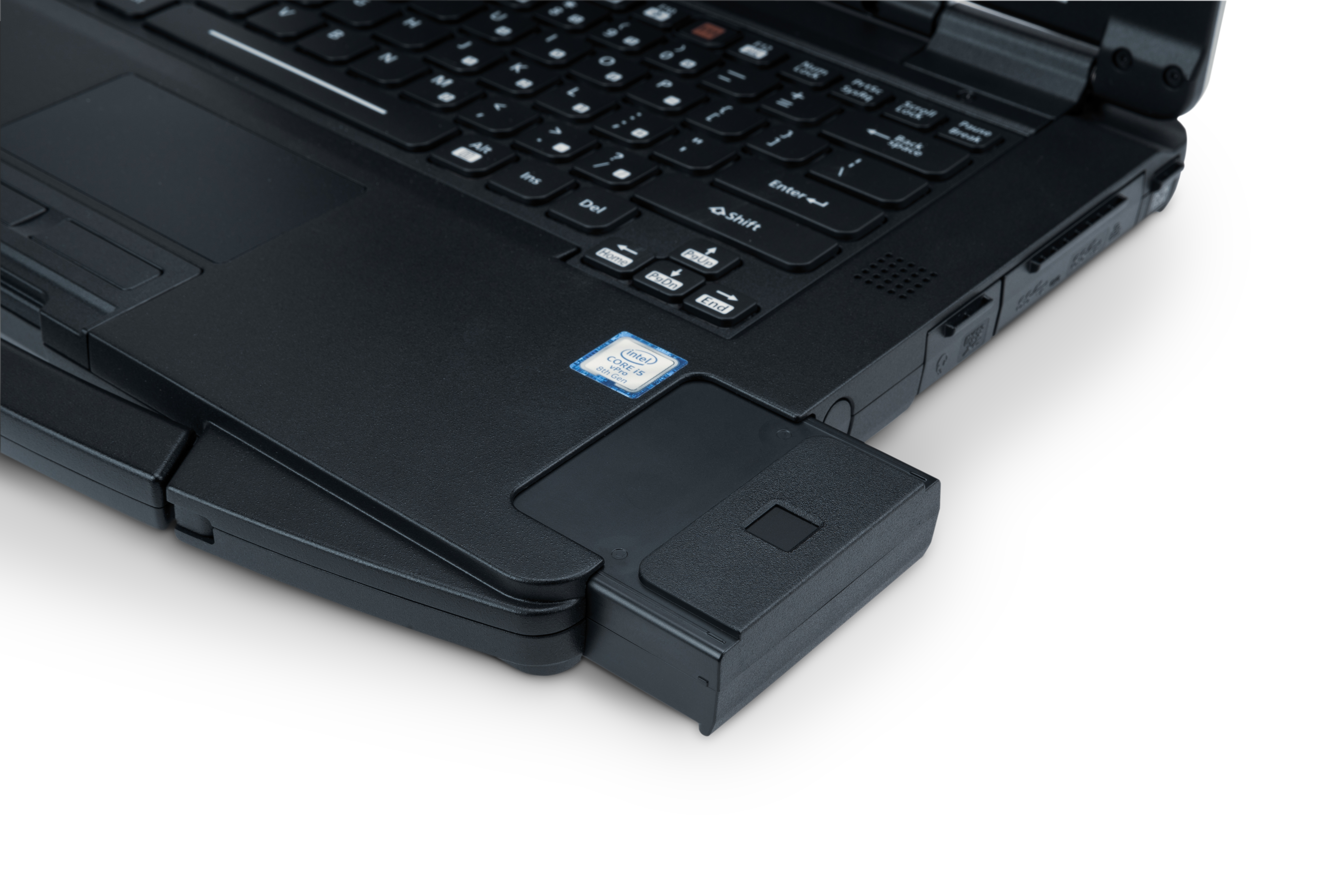 Expansion packs provide users with a variety of additional features, including multiple input/output (I/O) ports, a fingerprint reader, dedicated graphics and a second storage drive, to name a few. Both the main storage and optional second storage drive are quick-release, making installs and access to the drives easier. The TOUGHBOOK 55 also has a user-upgradable RAM and keyboard. With different agencies requiring unique features to get their jobs done most efficiently, the modular design helps ensure the TOUGHBOOK 55 is optimized for your work.
2) Unprecedented Battery Life
Customers need the ability to work all day without interruption. The TOUGHBOOK 55 has up to 20 hours of battery life with the standard battery and up to 40 hours with an optional second battery, making it the longest-lasting battery of any Panasonic TOUGHBOOK to date. The optional second battery also provides the ability to hot swap so you don't need to stop work to power down the device to switch out the battery.
For utility and field service workers who spend long hours on the job, or military workers who find themselves in some of the harshest and most remote locations, long lasting battery is paramount. With the longest battery life in its class, the TOUGHBOOK 55 helps them focus on getting the job done rather than worrying about their devices powering off while they're in the middle of a mission or job.
3) Powerful Performance
Important jobs need powerful, secure devices. The TOUGHBOOK 55 runs on the latest Intel® 8th Gen quad-core i5 and i7 processors. Intel vPro™ is standard, allowing remote management for IT departments and added security including Intel® Hardware Shield.
The TOUGHBOOK 55 is the thinnest and lightest laptop in its class, offering:
a USB Type-C port
HDMI 2.0
Bluetooth® 5.0
tetra-array microphones for unmatched speech recognition accuracy
92db speakers (75 percent louder than the TOUGHBOOK 54)
optional 1000 nit touchscreen for easy viewing in direct sunlight
a color-selectable backlit keyboard for easy identification at night
These are just a few examples of the more than 50 enhancements we've made on the TOUGHBOOK 55.
4) Backwards Compatibility
At Panasonic we listen closely to our customers and we know the last thing organizations want to worry about is having to buy brand new accessories along with a brand new device. The TOUGHBOOK 55 has been engineered to offer backwards compatibility to previous docks, cradles and AC adapters, effectively protecting our customer investments and saving them the hassle of dock upgrades and the associated costs.
5) Supports All Customers and All Segments
Our customers have many unique yet diverse needs – from our soldiers on the front-lines, first responders protecting our communities, to enterprise field and utility workers maintaining our vital infrastructure. The TOUGHBOOK 55 has been specifically engineered and designed to be flexible enough to meet all of their needs now AND as their needs change in the future.
For specifications and purchasing information about the TOUGHBOOK 55, visit our website.