Law Enforcement Mobility Trends: What Features Can Your Agency Benefit From?
February 03, 2017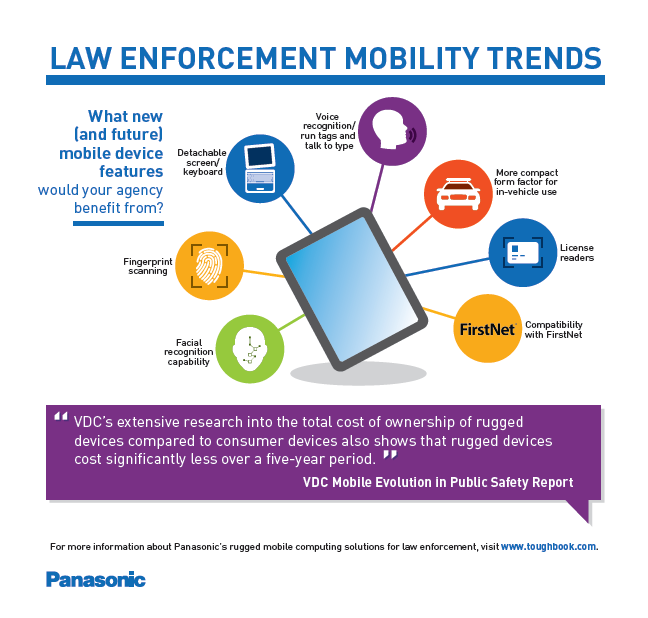 With the variety of mobile computing options on the market today, law enforcement officials can deploy a mobile laptop, tablet or 2-in-1 hybrid device that best meets the needs of their agency. While taking into account the various activities carried out on a daily basis, from managing e-citations, accident and evidence reporting, to various environmental factors that are often associated with emergency situations, agencies should select a form factor that makes the most sense for the way their officers work.
A recent survey by PoliceMag.com, asked 520 law enforcement officers across the country to learn about the latest mobility trends, including the mobile device capabilities they wish they had today as well as the features they would like to see in the future. Top responses included:
○ Detachable screen/keyboard allowing for a more compact and flexible form factor
○ Fingerprint scanning and facial recognition capabilities for instant identification
○ Compatibility with FirstNet as agencies migrate over to the network
With the need for today's law enforcement agencies to utilize tools that help them carry out their job efficiently and improve safety for everyone involved, rugged laptops and tablets provide the performance, connectivity and reliability that enable agencies to take advantage of new software and data aggregation tools.
To see the full results of the PoliceMag.com survey on Law Enforcement Mobility Trends visit: ftp://ftp.panasonic.com/computer/infographic/mobiltytrends_lawenforcement_infographic.pdf