Law Enforcement Mobility Trends: What are the Biggest Challenges?
February 01, 2017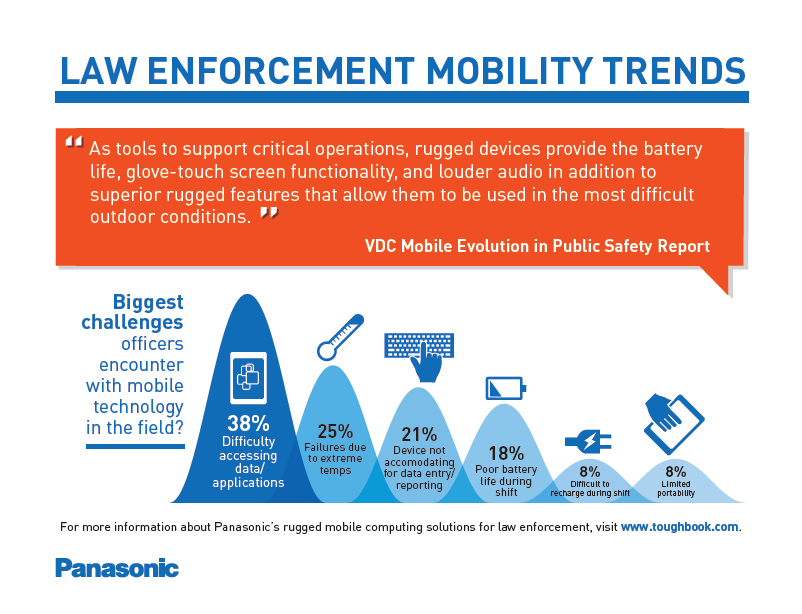 Mobile Mobile technology has become an essential tool for law enforcement and officers are always looking for features that make their jobs easier. However, mobile technology may also come with its own set of challenges in the field.
A recent survey by PoliceMag.com asked 520 law enforcement officers from across the country to identify the biggest challenges they encounter with their mobile tech in the field:
Accessing data: 38% report that trouble accessing data and applications from their mobile devices is the biggest challenge they face while on the job. Reliable wireless connectivity is essential in providing the real-time information that is needed to keep officers and the communities they serve safe. In addition, reliable connectivity improves officer productivity that keeps valuable time in-putting data and pulling critical information onsite.
Device Failures due to extreme temps: 25% of officers reported failures of their mobile device due to exposure to extreme temperatures such as overheating in hot police cars, an issue that rugged computers can solve. When evaluating mobile devices, it is critical to select technology that has been rigorously tested by an independent third party for durability and meets MIL-SPEC requirements for reliable performance, including high and low temperature testing. To learn more about MIL-SPEC testing and the right questions to ask a device manufacturer take a look at our whitepaper Not All Rugged is Created Equal.
Device not accommodating for data entry and reporting: 21% of officers report their device is not well-suited for heavy data entry and reporting tasks, an essential but often time consuming part of policing duties. Hybrid form factors offer more flexibility, combining the best features of both a laptop and tablet to meet the needs of officers on the job. A touch screen can provide easier access to applications while a full size detachable keyboard makes data entry much easier.
To see the full results of the PoliceMag.com survey on Law Enforcement Mobility Trends visit: ftp://ftp.panasonic.com/computer/infographic/mobiltytrends_lawenforcement_infographic.pdf