The Complete Buyer's Guide to Rugged Mobility
July 20, 2018
When looking to outfit a mobile work force, durability matters – and for those workers in unique, challenging and unpredictable environments, rugged mobile technology helps ensure that they can stay connected, stay productive and get the job done efficiently. But in today's mobile computing market, it can be difficult to know what it truly means to be "rugged."
This guide is provided to help you understand the standards and testing to look for to help you evaluate rugged mobile devices. It also highlights the essential features to look for when outfitting mobile workers with the right device for working in today's connected environment.
What should you know before making your next rugged mobile device purchase decision?
As a decision maker evaluating rugged devices, you must be armed with the information needed to help you understand 1) what MIL-STD-810G certification means, 2) which tests really matter, and 3) what questions to ask to help ensure the device performs reliably and delivers the right technology for the worker's needs.
Tight budgets and IT staff resource constraints mean that any mobile computing technology deployed needs to perform with unparalleled longevity, without frequent repairs or performance issues. Knowing how to evaluate mobile devices for long-term reliable performance results in higher worker satisfaction and productivity.
Many consumer grade devices are being labeled as "rugged." However, they don't offer the durability or service that purpose-built mobile devices do. "Purpose-built" means that they are specifically engineered and built "from the ground up" to perform reliably for a mobile workforce that is always on the road, working outdoors, or in a factory or warehouse.
This guide provides information to help guide you through your purchase evaluation process.
Buyer's Guide to Rugged Mobility
Understanding Mil-Spec testing is the first step in selecting the highest quality, most reliable rugged device for your needs. Customers who are armed with the key questions they should be asking are best positioned to understand the product they are investing in. When evaluating products, look beyond the spec sheet. Were the products merely designed to meet Mil-Spec or were they actually tested? Ask for third-party testing results to be 100% confident in the data.
With no governing body conducting Mil-Spec testing, third-party validation is the only way to ensure rugged testing claims are true. It is important to ask for independent lab testing results and details on each specific test, the number of products used and what parameters were given and any modifications made during testing. Consider how the device will fit into your total mobility solution. Investing in rugged means that your devices need to keep up with the demanding environments of your workers and last for years to come. Here are the questions you should be asking:
Were the right tests passed? Potential buyers shouldn't hear "Mil-Spec certified" and assume the device is rugged in all the potential testing categories. There are numerous types of tests, all done independently, so verify the device has passed the ones that best reflect the environment it will be deployed in. For example, customers that are purchasing a computer that will be mounted in a police car in an extreme heat climate, such as in Arizona, should put considerable priority on it successfully passing the extreme heat and vibration tests. A manufacturer may claim to have a "Mil-Spec" ruggedized device, but when you read the fine print, you may see it was only tested for altitude and not drops or spills, the most common causes of failure.
What is the fine print?

Currently, the Armed Services do not conduct actual tests or certify that rugged devices meet Mil-Spec standards. Each supplier of rugged computing equipment is expected to assure or guarantee adherence to the standards and can set their own parameters for the testing. Always ask for third-party validation of the tests that were passed. Also, remember to ask for details—for drop tests, for example, ask how many devices it took to pass and from what height. While MIL-STD-810G allows up to five devices to be used, Panasonic typically only uses one unit during the testing for fully rugged models

What is the annual failure rate?

In the end, reliability as seen in low failure rates, is what counts. After all, Mil-Spec is just a test. Whether a computer continues to operate smoothly after several years of hard use in extreme environments is the best determinant of how rugged it really is. Ask the manufacturer to share verifiable data on how their computers have actually held up under real-world conditions.

What features are included? Make sure you select a mobile device that works the way your workers do. For example, first responders and service members spend a significant amount of time outdoors and need daylight-viewable screens, as well as devices that can function in rain, snow and other extreme weather conditions. Gloved touch capability and a sturdy handle—for minimizing the potential for drops while carrying the device—are valuable features to consider.


What warranty and support is provided? Beyond device warranty, consider the support available during and after deployment. Find a provider that will provide assistance should problems arise and work with you to resolve any issues. Investing in a device that is easily compatible with other systems can save headaches during future technology integrations.


What security measures are put in place? Security is important to all business but especially critical for government workers. When valuable data is on the line, invest in a solution that will protect mission-critical information. Ask about features like a fingerprint reader or a SmartCard reader. Additional security features to ask for might include the Opal standard for hardware-based disk encryption necessary for DoD applications and Intel security measures such as Intel® Trusted Platform Module (TPM) 2.0 and be sure to select a CPU with Intel® vProTM Technology for added security and manageability capabilities such as threat management from viruses and malware, protection of confidential personal and business data and remote monitoring, remediation, and repair of PCs.
Rugged Tests: What Are They and Why Do They Matter?
Since the 1960s, the U.S. Department of Defense has set standards for rugged device performance. Through a series of tests collectively known as MIL-STD-810G (Mil-Spec), manufacturers simulate how a mobile device will operate under a variety of extreme stressors and environmental conditions. These tests can be modified to fit the needs of a specific customer or industry, allowing manufacturers to choose the tests they want and then adjust parameters accordingly. Once a device is tested and meets certain MIL-STD-810G specifications, they are approved for use by departments and agencies of the United States Department of Defense, indicating they should meet the demands of mobile professionals in other challenging work environments.
The tests have been revised throughout the years (MIL-STD-810G Change 1 is the latest version) to reflect the ever-evolving needs of military personnel, and have become a common benchmark across the industry in validating whether or not a device can be considered "rugged." MIL-STD-810G covers a variety of scenarios like drops and vibrations, extreme temperatures, high altitudes, water resistance and dust intake. For a truly durable mobile device that will survive mission critical jobs, buyers should make sure a device has third-party validation of all Mil-Spec claims to ensure it will meet their performance needs.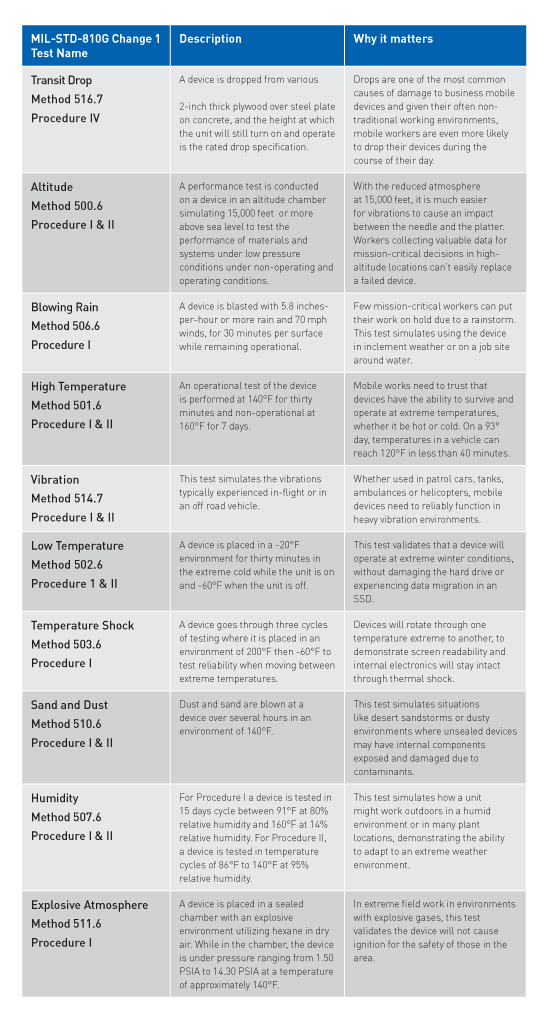 For more information about rugged testing and Toughbook features, download the complete white paper here.