British Users Reveal Business Tablet Troubles
May 20, 2014
With their ease of use, mobility and versatility, tablets are undoubtedly improving productivity in the workplace. But what price are businesses paying for the use of consumer-grade tablets not intended for the professional world?
More than 80% of Fortune 500 organizations are currently deploying or testing tablets for their mobile workers, according to VDC Research. In many cases, these organizations have gone with off-the-shelf tablets designed for the consumer market. Although they often come with a cheaper sticker price, these devices' lack of durability and enterprise-grade batteries, screens and other features – not to mention the potential for poor security, difficult integration with the organization's existing IT infrastructure or other concerns – mean they often carry higher costs than originally expected.
A recent survey of British business tablet users looks at how tablet technology is paying off in the business world. The research, undertaken by Dynamic Markets Ltd. and commissioned by Panasonic, was based on responses from 500 British workers who use a tablet for work. To read the full whitepaper, one of the first-ever studies into the reliability of tablets in the British workplace, visit the Panasonic System Communications Company Europe website.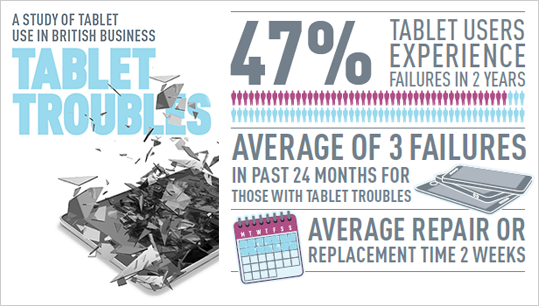 Consumer-grade tablets are built with light, indoor use in mind – not the constant, occasionally rough outdoor treatment that comes with serving as a professional tool in the field. It's no surprise, then, that the survey showed almost half of all workers experienced tablet failure within the past two years. In fact, end users were reported to have suffered an average of three issues during that period and had to typically wait two weeks per occurrence for a repair or replacement.
Extreme temperatures were the most common specific cause of tablet failures according to survey respondents. The survey's findings show that 29% of problem tablets had been left in a hot place, while 11% failed after being left out in the cold, such as in a car overnight in a wintery climate. Accidents, such as a fall, being dropped or knocked off a desk were also common (21%). Spillages of water, coffee, tea and soft drinks (17%) and immersion in water were also noted (11%). More than one in ten (11%) even reported seeing their tablet run over by a vehicle. Notably, 68% of tablet users said they believed their tablet was more prone to failure than the devices they used before, such as a desktop PC, laptop or smartphone.
Still, our survey also uncovered some significant benefits to using tablet devices. For example, of those polled 43 percent recognized that their tablet made them more efficient when performing work-related tasks on the move.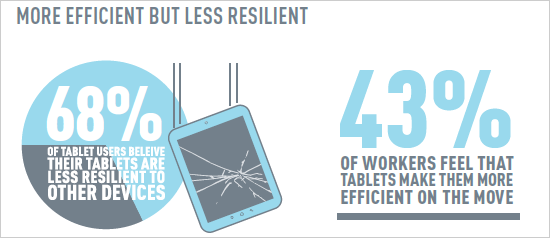 Of all the concerns reported during our survey one stood out loud and clear – reliability. Today's business owners are recognizing the advantages of a mobile workforce and are quickly pushing to embrace the trend. However, while the low price tags of consumer-grade tablets appeal to many business decision-makers, the time and money required to support the use of these devices in the field significantly increases total cost of ownership and reduces return on investment.
Unlike consumer devices, enterprise-grade tablets are purpose-built to meet the needs of business end users. Whether it's a need for a device with water or dust protection, or the ability to stand up to extreme temperatures or knocks and drops, enterprise-grade tablets are designed to withstand the rigors of challenging environments. Beyond just physical durability, enterprise-grade tablets also come with heightened security and are more easily integrated and supported as part of an enterprise IT environment.
To learn more about Panasonic's enterprise-grade tablets, visit PanasonicToughpad.com.